Here is a latest case study of Mrs Ishrat  liver cancer patient she was cured by homeopathic treatment of Dr. Sabeel.
Information About Patient:
Name: Mrs. Ishrat
Age: 60 Years
Gender: Female
Medical Problem: Cancer of Right Lobe of Liver
Contact Date: January, 2015
Symptoms of patient
Pain right side of liver region (lycopodium)
Burning stomach after eating (Ars alb)
Constipation (Nux Vomica)
Patient most of the time felt nausea. (Ipecac)
Desire of fresh air (Carbovege)
Nausea  (Ipecac)
Sour taste of tongue (Bryonea)
Fever in evening (Rhustox)
 Abdominal swelling due to ascites (Apis milifica)
Difficult to urinate (Canthris)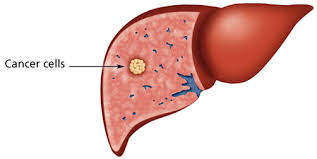 Medical Reports of Mrs Ishrat Before Starting Treatment from Dr. Sabeel:
With the permission of Mrs. Ishrat, we are sharing her medical reports.
Above mentioned report clearly shows the lesion in right lobe of liver (Liver Cancer). This test was done on 13 January, 2015. Mrs. Ishrat did not want to take painful and costly Allopathic treatments and decided to contact Dr. Sabeel. After reading this report and observing other symptoms, Dr. Sabeel started her treatment.
Medical Report of Mrs Ishrat After Treatment of 3 Months:
After the treatment of 3 months from Dr. Sabeel, another test was conducted to check the current condition of Liver. Here is the copy of that report:
As you can see in above report, there is improvement in the condition as lesion size was decreased. But still the cancer was not fully cured. This test was done on 18 April, 2015. The treatment was not disconnected.
Final Medical Report Mrs Ishrat After 5 Months of Homeopathic Treatment:
After another 2 months, medical test was conducted again and here is the copy of medical report:
As you can see in above medical report, the liver of Mrs. Ishrat was completely normal. The lesion/cancer was cured completely and liver was of normal size. The abdominal and pelvic scan was 100% normal. This test was conducted on 18 June, 2015.
Conclusion:
The liver cancer of Mrs. Ishrat was completely cured in 5 months by taking homeopathic medicines from Dr. Sabeel. There were no surgeries, operations or painful therapies (like chemotherapy) involved. If you or any of your friends is suffering from any type of Cancer, don't hesitate to contact Sabeel homeo clinic.
Thoughts of Grand Daughter of Mrs. Ishrat (Miss Shumaila Shah):
Miss Shumaila Shah is grand daughter of Mrs. Ishrat.  She has shared her thoughts about her grandmother Mrs. Ishrat's liver cancer treatment from Dr. Sabeel. Read her comment here.
Related