Acknowledgement from Minister for Law – Govt of Punjab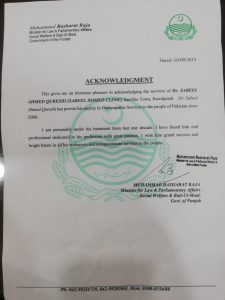 Letter of Acknowledgement received by Dr. Sabeel from Muhammad Basharat Raja; Minister for Law & Parliamentary Affairs, Social Welfare & Bait-Ul-Maal - Government of Punjab acknowledging his services and professional dedication as Mr. Raja has been his client for about a decade.
Achievement Award by Government of Pakistan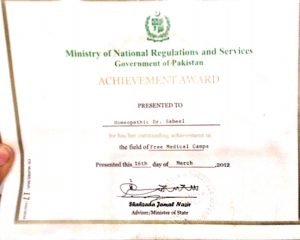 Dr. Sabeel Ahmed has been given an Achievement Award by Shahzada Jamal Nazir; State Ministry of Health for his outstanding work in the field of Free Medical Camps. This award is from National Regulations & Services - Government of Pakistan .
Nomination as Member Advisory Committee – Government of Punjab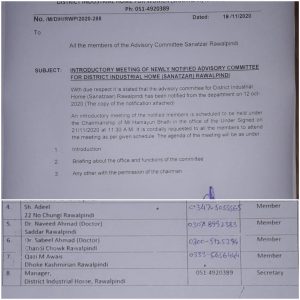 Dr. Sabeel Ahmed has been nominated as Member of the Advisory Committee for District Industrial Home (Sanatzaar) for a period of 2 Years by Government of Punjab along with Medical Superintendent of Holy Family and Advocate of District Court, Rawalpindi.
Interview to Daily Nawai Waqt Newspaper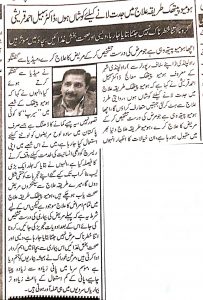 A renowned local newspaper of Islamabad/ Rawalpindi Daily Nawai Waqt interviewed Dr. Sabeel Ahmed. While talking with the correspondent he expressed his willingness to bring innovation in the field of Homeopathy. He also added that a good homeopath is one who identifies the root of the illness and then works to cure it.
Dr. Sabeel with Dr. Khalid Fayyaz Ranjah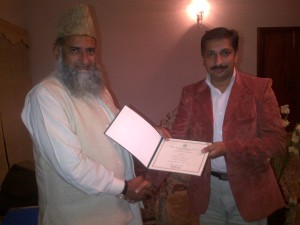 Dr. Sabeel is a well known personality both in medical and official circles. You can see Dr. Sabeel with Dr khalid Fayyaz Ranjah D.G Health Pakistan getting an award.
Sabeel Homeopathic Clinic Opening Ceremony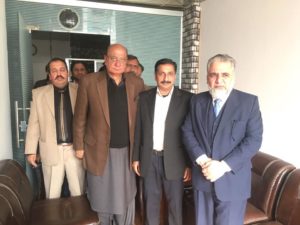 Grand opening ceremony of Sabeel Homeo Clinic in new location on 4th-B Rd, Block B Satellite Town, Rawalpindi. Chief Guest Raja Muhammad Basharat Provincial Minister of Punjab for Law and Parliamentary Affairs. and Dr Mehmood ul Haq Abbasi President N.C.H.