What Are Kidney Stones?
Kidney stones are also known as Calculi or Renal Stones. These stones are actually crystalline and hard minerals that are created inside Urinary tract or Kidneys. Even very smaller sized stones can damage tissues of kidney creating infection.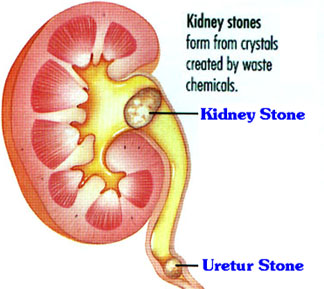 How Kidney Stones Are Formed?
The main function of Kidneys is to remove waste materials from blood and throw them into the urine to be excreted from human body. Sometimes these waste materials are not properly dissolved in the urine that causes the formation of stones in the kidney or urinary tract.
There may be various reasons or causes of Renal Stones formation. Some important are mentioned below:
Dehydration (less water) for a long period of time
Decrease in Acidic level of urine
Blockage in Urinary Tract
Excess of certain substances in urine like phosphates, calcium, oxalates etc
Infections in Urinary Tract
Doing nothing or very less physical activity
Excess of Vitamins C and D
Using medicines that increase the levels of calcium and uric acid in blood
What are Common Types of Kidney Stones?
Calcium Kidney Stones: Most common type is Calcium stones which is caused by excess of Calcium in urine. More common in men.
Uric Acid Kidney Stones: These are more common in women and are mainly caused by severe dehydration or in condition where Uric Acid level is increased in blood (for example in Gout disease).
Cystine Kidney Stones: These are not so common and are usually formed in people that suffer from a Genetic Disorder called Cystinuria. These stones are most difficult to treat and most of the time are diagnosed during childhood.
Struvite Kidney Stones: These type of stones are more common in women and are usually larger in size. The main reason of their cause is infection in Urinary tract.
What Are Common Symptoms of Kidney Stones?
 Cramping pain in abdomen, groin or lower back
Vomiting due to sever kidney pain
Blood seen in Urine
Urine may be foul smelling
Feeling pain (burning) during urination
Urinating many times during night
Blockage is felt during urination
Frequent feelings of chill during fever
Safe Treatment of Kidney stone without  Surgery.
In homeopathy effective treatment of Kidney stones in available. In 95% of cases Renal stones are removed without surgery or operation. This is the main benefit of this treatment. The homeopathic medicines work by breaking the kidney stones into very small pieces that are then dissolved in the urine to be excreted out. Medicines are used to eliminate the infection that had caused by Renal calculi. Homeopathic medicines also stop the re-formation of kidney stones and prevent infection in urinary tract and kidneys.
In some cases (about 5% cases) the stones are very large and cannot be eliminated by homeopathic medicines. In such cases Surgery or Operation is recommended. After operation the homeopathic medicines are given again to prevent  re-formation of Renal stones.
Berberis Vulagris
Berberis Vulagris its very effective Homeopathic  medicine for Renal stones
Specially use for left sided kidney stone .
Burring and cutting pain left side relieve be bending double(colocynthis).
Berberis vulagaris also work on left ureter stone
Mgnesium Phosphoricum
Amazing Homeopathic pain killer in kidneys problem
Mag phos pains in kidneys ameliorate by warm applications
Lycopodium
Lycopodium helpfull on right sided Kidney stone and right urinary track infections.
Reddish urine due to kidneys disease.
Ipecac
Best cure of nausea and vomiting during kidneys pain.
Canthris
Canthris can be used severe burning in urine associated with Renal stone.
Constant desire to pass  the urine.
Sarasaprilla
Sarasaprilla very Fast action medicine for Kidney pain due to kidney pain.
Remarkabke effects all types of urinary infection like , Haematuria , burning urine , difficult to urinate.
Right sided kidney pain reduced after using sarsaprilla
Case Study:1
Mrs Mehnaz Patient of kidney stone and ovarian cyst Cured by the Homeopathic Treatment by Dr Sabeel .
Case Study :2
Right ureter stones and renal concretion Cured by Homeopathic medicine
Related