Definition of Kidney Failure
Kidneys perform very important function in our body. They filter blood, collect waste products from blood and then excrete them out from body through urine. In case of kidney failure, human kidneys are no more able to do their job. When kidneys are failed, high levels of waste products start accumulating in blood.
There are 3 stages of kidney/renal failure. These stages are explained in following image: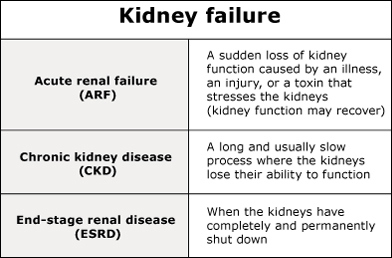 The first stage of kidney failure called Acute Renal Failure can be treated and reversed. But if not treated this condition may lead to death of patient.
(Image Credit: medicalsymptomsguide.com)
Signs and Symptoms of Kidney Failure
The commons signs and symptoms of renal failure include:
swelling in legs, feet and ankles due to fluid retention
confusion
drowsiness
fatigue
Coma
sleeping disorders
loss of concentration
Please note that in some cases there may not be any clear symptoms and signs of renal failure.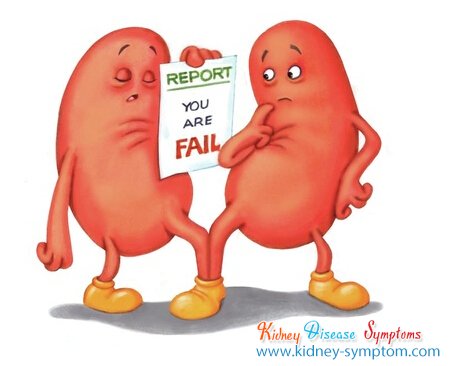 Reasons and Causes of Kidney Failure
The main reasons of kidney failure are listed below:
Slower Blood Flow to Kidneys: In some conditions the blood flow to kidneys is reduced. Due to reduced blood flow kidneys cannot perform their normal functions and may lead to renal failure. There are many diseases and conditions that can reduce blood flow to kidneys like blood loss, medicines for blood pressure, liver failure, heart attack or severe dehydration etc.
Direct Damage to Kidneys: The direct damage or infection of kidneys may also lead to renal failure.
Blocked Ureters: The waste matters filtered by kidneys are drained out through vessels or tubes called ureters. Sometimes ureters are blocked and waste matters cannot leave body through urine. This condition may also lead to kidney failure due to accumulation of waste matters within kidneys. The blockage of ureters may be due to certain diseases and conditions like colon cancer, bladder cancer, cervical cancer, enlarged prostate, prostrate cancer and kidney stones etc.
How to Diagnose Kidney Failure?
If patients have some or all above mentioned kidney failure symptoms then doctors recommend following tests to confirm the condition.
Urinalysis: In this test urine of patient is analyzed to find abnormalities. Also the quantity of daily urine excreted is measured. The decreased quantity is an indication of renal failure.
Blood Tests: A higher levels of creatinine and urea in blood is another indication of renal failure.
Kidney Imaging Tests: It is important to see the images of kidney to diagnose renal failure. Tests like ultrasound and computerized tomography are conducted to see kidneys of patients.
Biopsy: In this test a small sample of patient's kidney is removed and tested in lab. A sharp needle is inserted into kidney through skin to remove a sample for testing.
Allopathic Methods to Treat Kidney Failure
Medications:  Certain medications are given to treat the condition. Medications are used to heal the kidneys and prevent further complications. Different problems like accumulation of blood potassium, retention of fluid, deficiency of fluid, decreased blood flow to kidneys etc are treated through medicines.
Note: There are many side effects associated with the use of these medications.
Hemodialysis: Due to kidney failure, toxins are accumulated in blood and cannot be removed. Blood is pumped out of patient's body through dialyzer. Dialyzer acts a an artificial kidney that removes waste matters from blood. The filtered blood is then returned to patient's body.
Note: This is a painful and expensive procedure.
Kidney Transplantation: Surgery is done to remove damaged kidney and a healthy kidney from another person is implanted.
In some patients both medicines and Dialysis are done.
Perfect and Safe way to Treat  Kidney Failure Using Homeopathic Medicines
Homeopathic medicines are quite effective in treating the kidney failure. Usually kidney starts functioning normally after homeopathic treatment. To do proper homeopathic treatment it is essential to understand the underlying cause(s) of kidney failure. We have discussed the main causes of renal failure in above lines. Sometimes more than 1 factors are responsible for this condition making the condition more severe.
After observing all symptoms and checking all medical reports, proper homeopathic medicines are given to patient. These medicines work in two ways. First of all they control the condition so that no more damage is done to the kidneys. Secondly, they start elimination the root causes of renal failure. Unlike allopathic medicines, there are no side effects associated with the use of Homeopathic medicines. If treatment is done in a right way, patient starts feeling better within few weeks. After few months, most of the patients are fully recovered and their kidney starts functioning properly and normally.
Some homeopathic medicines that are usually used to treat symptoms and underlying causes of renal failure are listed below:
Lycopodium
Apis mellifica
Apocynum
Arsenicum album
Aurum muriaticum
Belladonna
Berberis Vulagaris
Convallaria
Cuprum arsenicum
Digitalis
Kali chloricum
Mercurius corrosivus
Plumbum
Phosphorus
Terebinth
You should not use any of these medicines without asking from a reputed homeopathic doctor. All medicines mentioned here are for educational and informational purposes only.
Video: Explaining Symptoms, Causes and Treatments of Kidney/Renal Failure:
Related