What is Parkinson's Disease?
A nervous system disorder that gradually affects body movements is called Parkinson's Disease. This diseases may start with slight tremor in hand but gradually it starts affecting whole body movement. Treatment of this diseases must be started in earlier stages, otherwise the condition becomes worse with the passage of time.
Image Credit: parkinsons.ie
Common Symptoms of Parkinson's Disease
The symptoms of Parkinson's Disease are slight or mild during earlier stages, but with the passage of time, symptoms become severe and may affect whole body. In many cases Parkinson's disease affects one side of human body but later it affects other side of body too.
Here are some most common symptoms and signs of Parkinson's Disease:
Tremor or Shaking: Shaking or a tremor in fingers or hands. Tremor may also be seen when your hands are in rest.
BradyKinesia (Slow Body Movements): Body movements become slower. You may feel difficulty is simple tasks like walking, getting out of a chair etc.
Stiffness of Muscles: Body muscles become rigid and stiff that reduces your ability to move. It also causes pain in muscles.
Balance and Posture Problems: Patient may develop stooped posture and feel difficulty in balancing her body.
Unconscious Movements Problem: Patient may lose (partially or fully) ability to do automatic movements like smiling, blinking or moving arms while walking.
Speaking Issues: Patient may develop speech problems like very fast speaking, soft speaking or feeling hesitation before speaking.
Writing Issues: It becomes difficult for patient to write or write properly.
Thinking Problems: Patient may feel difficulties in thinking or concentrating.
Depression: Patient may experience depression or emotional changes.
In some patients following signs may also be seen:
Difficulty in swallowing
Sleeping disorders
Fatigue
Blood Pressure related issues
Image Credit: uchospitals.edu
What are the Causes of Parkinson's Disease?
Parkinson's disease is a nervous system disorder in which specific brain cells called Substantia Nigra (neurons) that produce dopamine are broken down or become dead. Dopamine is a very essential chemical for the proper working of human brain. When levels of dopamine decrease the symptoms and signs of Parkinson's Disease are seen in the patient.
The exact reason of death of dopamine producing cells is not known. But it is believed that this condition is associated with following factors:
Genetics: Some genetic mutations can result in this condition. Chances of disease increases if someone in your family have or had this disease.
Environment: Some toxins or other environmental factors may trigger Parkinson's disease in some people. For example exposure to well water, herbicides, agricultural pesticides etc.
Age: Usually people with ages 60 or above are victims of this disease. Sometimes it may occur in earlier stages of life.
Gender: This disease is more common in men than women.
Image Credit: Boehringer Ingelheim
Common Allopathic Treatments for Parkinson's Disease
In Allopathy, there is no way to cure Parkinson's disease completely. It is only possible to reduce or control the signs and symptoms of Parkinson's disease to make the life of patient easier.
Medicines: Usually patients are advised certain medicines that increase the dopamine level in the body to control the disease symptoms.
Lesion Surgery: Small lesions/cuts are made in some part of brain that is causing tremors in the body.
Deep Brain Stimulation Surgery: During this surgery, an electrode is placed in critical part of brain that controls body movement. Electrode is attached with small battery in chest through wires.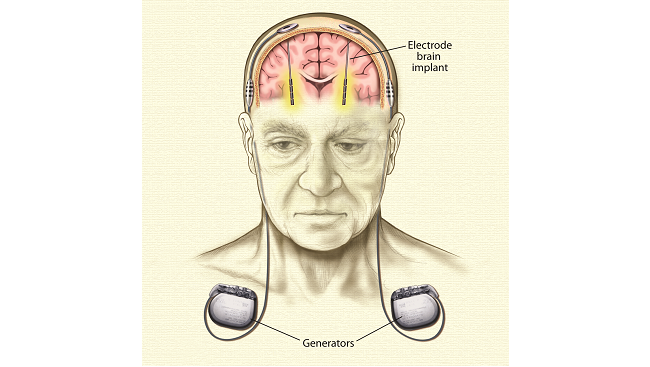 Illustration by Lydia Kibiuk. Copyright 2008, Society for Neuroscience.
Please note that even surgery cannot cure the Parkinson's disease, it may only reduce symptoms if done right.
How Parkinson's Disease Can Be Cured Completely Using Homeopathic Medicines?
The allopathic treatment methods are expensive, long term, painful and are associated with many side effects. They can only decrease the symptoms and cannot cure the root cause of issue.
The homeopathic treatment method is inexpensive, reliable and way more effective than allopathic treatment. There are many medicines that can minimize almost all symptoms of Parkinson's disease. Your homeopathic doctor will study your case in detail by observing all symptoms and checking your medical history. He will also consider other factors like your age and nature. You will notice immediate relief in your condition after taking homeopathic medicines for 1-2 weeks. Your doctor will keep on changing your medicines according to changing symptoms and within few week you will feel a huge relief and difference in your condition. After few months, most of your symptoms will be gone and you will be able to live your life like a normal person.
Some homeopathic medicines that may be used to treat symptoms and underlying causes .
Mercurius
Zincum-Metallicum
Rhus-tox
Gelsemium
Argentum Nitricum
Agaricus Muscarius
Cocculus
Lathyrus
Physostigma
Ambra Grisea
Heloderma
Mag-phos
Bufo Rana
Tarentula
Plumbum Metalicum
Conium
Please don't use these medicines on your own. You must consult your homeopathic doctor to get right medicine for your condition. We have mentioned these medicines here for educational purpose, only.
Video: Explaining What is Parkinson's Disease, Signs and Causes:
Related