What is Infertility?
Infertility is a term that is used for a woman that has been unable to conceive a baby after having regular intercourse without being protected. Medical experts also refer to the biological incapability of a person to donate to conception.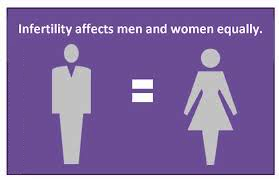 What are Common Symptoms of Infertility in Women?
In several couples, you will not find any clear indication or symptom of infertility issue. The couples will have a proper intimate sexual life without any problem, they might be having sex in the normal way and the  erection and ejaculation would happen without any problem.
In females, changes in their menstrual period are one of the signs that they are suffering from the problem of infertility. However, some of the symptoms in women may include:
High or low ratio of bleeding than usual.
Irregularity in the days of periods on monthly basis.
No menstrual cycle at all. For example, you may never get menses, or they have been stopped mysteriously.
Painful intercourse
At times, infertility in women is due to the hormonal disorder
Releasing milky fluid from nipples
Symptoms of Infertility in Men
Infertility Symptoms in men may not be clear or certain. Its signs might not be noticed till a person makes an attempt for his baby.
Some of the symptoms in men may include:
Changes in their hair growth
The desire for sex might be just a dream
Feeling pain or irritation in the testicles
Erection or ejaculation may not be normal
The small size of testicles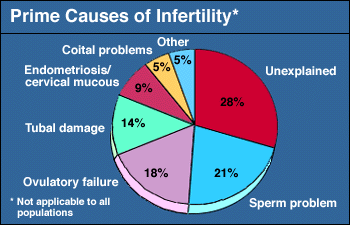 Causes of Male Infertility
Abnormality in sperm production mainly due to hormonal disorders
Issues related to erection and ejaculation
Overexposure to some toxic chemicals
Causes of Female Infertility
Ovulation related problems
Having problem in the Fallopian tube or blockage
Endometriosis
Primary ovarian insufficiency
Thyroid related issues
Cancer and its treatment. Certain cancers — especially women reproductive cancers
Other conditions: Medical problems related to the delayed puberty or no periods (amenorrhea), a few diseases like celiac disease, Cushing's disease, sickle cell disease, kidney disorder, or diabetes, may lead to infertility problems in females. Sometimes infertility in women is a genetic problem that is really unfortunate.
How Infertility is Diagnosed in Women?
The doctors would diagnose this problem in males and females in a different way.
How to diagnose infertility in women
While diagnosing a female's fertility, her doctor might possibly ask a few questions to inquire about her health history. They may include:
Whether there was any prior pregnancy?
Any Miscarriage?
Menstrual period frequency history
Some detail about pelvic pain
Whether she is having abnormal vaginal bleeding or not
The doctor would also take a physical exam that might include a pelvic exam, Pap test, and blood tests to seek the exact findings. The doctor will also check if there is any chance of milk production in her breasts.
Diagnosing Male Infertility
While diagnosing a man's fertility the doctor would surely like to seek the symptoms of hormonal deficiency. For example extra body fat and decreased muscle mass and body hair. He may also ask certain questions to inquire about the health history, that may include:
Is there any injury in the testicles or penis
Any recent history of prolonged fevers
Is there any childhood illness, like mumps
The doctor would then take a physical examination of the testes and penis that will pave the way to diagnose the problem, such as:
Infection, signaled by prostate swelling
Hernia
Malformed tubes, which transport sperm
Hormonal deficiency is shown by small-sized testicles
Presence of mass in the testicles
Varicocele
The doctor would most likely ask the person to give a sample of semen so that he may be able to assess the health and quality of the sperm.
Treatment of Infertility Male and Female in Homeopathy
Homeopathic remedies that can be effective for the treatment of infertility are given below:
Acid Phos
Agnus Castus
Orchitinum
Nupher Luetium
Selenium metallicum
Lycopodium
Related