The formation of cancer cells in prostate gland is called Prostate cancer. Prostate is a part of man's reproductive system and is a small structure  which wraps around the Urethra. Urethra is tube that takes urine out of the human body. Prostate cancer is most common type of cancer in men.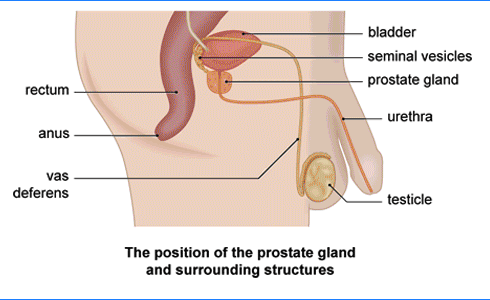 Image Credit: Bupa UK
Symptoms of Prostate Cancer
This cancer may occur in men with ages more than 40. In most of the cases this cancer is developed after the age of 60. In earlier stages of this cancer usually no obvious symptoms are seen.
Most of the symptoms are seen when prostate cancer has grown larger. At this stage following symptoms are observed:
Delayed Urinary Stream
Feelings of strain during urination
Difficulty to empty all urine
Semen or blood seen in urine
Causes of Prostate Cancer
This cancer only develops in men in their older ages. The people who are usually at risk of this cancer are:
Painters
Men who eat more animals fat
Men who drink too much alcohol
Men working in Tire plants
Men who stay around Cadmium
Farmers
How to Diagnose Prostate Cancer?
Usually biopsy is done to diagnose prostate cancer. In biopsy some tissues are taken from prostate and are examined to calculate Gleason grade and a Gleason score. These scores may range between 2-10. If score is higher, it means prostate cancer is at higher stage.
Usual Treatment Methods for Prostate Cancer
In Allopathy following treatment methods are used to treat Prostate Cancer:
Surgery
Proton Therapy (Radiation Therapy)
Brachy Therapy (Radiation Therapy)
Chemotherapy
Immunotherapy
These methods are very painful and are associated with numerous side effects.
Perfect Cure of Prostate Cancer in Homeopathy.
There are effective medicines available in homeopathy that can treat prostate cancer. The best part of this treatment is that this is not painful unlike all Allopathic methods mentioned above. The homeo medicines target the tumor cells, isolate them from healthy cells and stop spreading of cancer to other parts. The patient feels clear difference and relief after few weeks of homeopathic treatment. The complete recovery may take little time depending upon the severity and stage of cancer.
There are different medicines in homeopathy to treat prostate cancer depending on the type and stage of cancer. You should consult an expert and experienced homeopathic doctor to treat prostate cancer properly.
Here is the detail some homeopathic for CA prostate.
Conium
Caricinosinum
Apis Milifica
Canthris
Sabal serr
Selenium
Note
Please do not use any of these medicines on your own without consulting a professional homeopathic doctor.
Related