What is Obesity?
Obesity or being over-weighted is as a health problem that is usually result of excessive fat in your body which may produce adverse effects on the health.  Obesity has been a growing health issue around the world in recent times.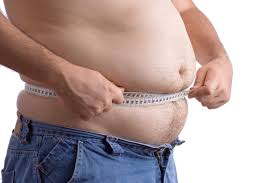 Common Causes of obesity
The common causes of obesity are listed below:
Eating Excessive amount of fat enriched food: The main cause of obesity is the intake of excessive amounts of processed food. Including fast food in your daily routine can also take you at a risk of obesity. Actually this type of food contains extra amount of fats and sugar, therefore it is better to avoid such types of food and products.
Intake of Alcohol: Alcohol has become quite common nowadays. However, many of the addicted people might be unaware of the fact that it contains lots of calories, hence using alcohol can also cause obesity.
Frequent Eating in Restaurants: Many people, especially women love to go for outing quite often and the best place for them is to visit a nearby restaurant. They should keep in mind that the food offered at such hotels has high amount of fat that can be a key factor for their obesity.
Taking Beverages in daily routine: Taking beverages too much can be a factor as they containg high amount of sugar.
Lack of exercise and Physical activities: One of the main causes of over weight is that people get so busy in their professional life that they are unable to find time for some sort of physical activity. Lack of exercise and healthy activities contribute a lot for obesity.
Inheritance: This condition can run in families, too.
Certain Diseases
Symptoms of obesity
The symptoms of being over-weight are simple and obvious. When your body weight keeps on increasing and your belly fat increases, you should consult your physician.
Obesity Can Lead Many Complication
Hypertension(High BP)
Raise the cholesterol level and triglycerides
Homeopathic treatment of Obesity Without any Side Effects of Medicine
Homeopathy offers various medicines for the treatment of obese people and patients of this problem can get benefits from these medicines as they do not have any side effects.
The homeopathic medicines work effectively to reduce body weight. Through homeopathic medicines the extra fat deposits of human body are burned to supply energy to human body. Some medicines inhibit the desire of taking extra food that helps in controlling weight. By taking proper medicines for few months, most of the people can lose all of their extra body fat.
Some common homeopathic medicines used to treat over weight patient are:
Calcarea Carbonica
Natrum Mur
Lycopodium
Nux Vomica
Antimonium Crudum
Graphitis
Fucus
Phytolacca Berry
Calcarea carb
Related