What is Lumbar Pain?
Lumbar pain is the pain that occurs on the lower side of the back. In this disorder muscles and bones of the lower back are affected. Research shows that about 40% of people across the world are affected by this disorder. Nowadays this pain is known to be a very common health issue. Commonly known as lower back pain.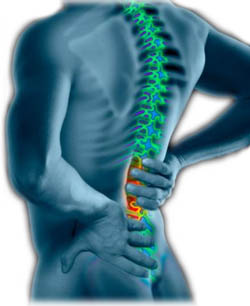 What are the Main Causes of Lumbar Pain?
There are many things that can be the cause of back pain. Do you want to know some of the reasons that can lead you to this disorder? Let us discuss some of them here.
The strain on Muscles: A big cause of this pain is muscles stiffness. When you feel strain or stress in the lower area of your back then you should immediately take a rest otherwise this condition can become serious. It can be avoided just by relaxing and taking a proper physical therapy session.
Disk Problem: Sometimes lifting something heavy can damage discs of the lower back area. Usually, it slips away from its place and causes lumbar pain.
Arthritis: A type of arthritis which is known as lumbar osteoarthritis is a big cause of this pain. It leads to a really painful condition that is usually unbearable.
Spondylosis: Spinal osteoarthritis can be a big cause of back pain. It increases with the passage of time. Age is the primary factor in this kind of problem.
Kidney Infections: Having pain and can't understand why it started? You should consult a doctor immediately. It might have started because of a severe infection in the kidney or bladder that can be problematic.
Pregnancy: Lumbar pain is common in pregnancy days because in this condition a lot of stress or strain comes on muscles because of weight gain. With the passage of time when the body posture changes the pain increases gradually.
Ovarian Cysts: Lumbar pain can be a result of an ovarian cyst. It is a ball filled with fluid and usually takes place and grows inside or outside of an ovary.
Cancer: Lower back pain can affect a person if someone is a patient of cancer.
Common Symptoms of Lumbar or Lower Back Pain
The lumbar area is interconnected with tendons, small and sensitive joints, spinal disc, and nerves that are attached to legs and feet. When you feel irritation in any of these parts this indicates that lower back pain is going to threaten you. Urine problem is also a symptom of this pain which is very common nowadays. Feeling pain while walking, uncontrollable stools, weakness, fever, chill, weight loss, and fatigue are the main symptoms of lumbar pain.
 Effective and Best Homeopathic Treatment of Back Pain
Homeopathic is a harmless but effective way of treatment and has many options and procedures to cure back pain.Homeopathic medicines work best when the doctor knows the exact causes of back pain. For almost all types of causes, there are effective medicines available in homeopathy. Many times, back pain is caused by some other issues like kidney infections and arthritis, etc. When these conditions are treated the pain is gone. In other cases, the muscles, discs, and bones in the lumbar area are affected that causes lumbar pain. In these cases, the balance between lumber muscles is created and any damaged discs are treated. With homeopathic medicines, the back pain is gone forever, after few months.
Here is the list of some of the medicines that can be used in lumbar pain treatment:
Rhus Toxicodendron
Calcarea fluorica
Nux vomica
Oxalic acid
Sepia
Aesculus
Arnica montana
Bryonia
Calcarea carbonica
Calcarea phosphorica
Kalmia
Case Study :
Related