What is Spinal Disc Herniation?
Spinal Disc Herniation is a condition in which one or more discs or spinal cord are affected. The material present inside the disc is swollen and exerts pressure on its outer hard membrane. This results in bulging of discs at various spots and may press the surrounding nerves. This may cause extreme pain. The problem usually occurs in the disc present in the lower back. If the problem persists and is not treated the spasm and pain in the back limits body movement. Sometimes the pain can move in one of your arms or legs.
Learn What is Spinal Disc Herniation and How Is It Caused in This Nice Video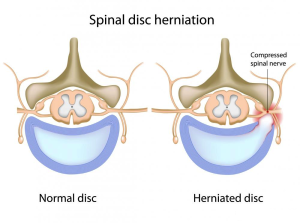 What Causes Spinal Disc Herniation?
Wear and tear are known as the key factor that may cause spinal cord herniation.
Some activities can also cause this problem, some of them are given below:
• degeneration of the disc.
• Obesity.
• Sudden jerk.
• Sprain.
• Trauma to spine.
The most commonly affected discs are L4-L5, L5-S1.
Main and Common Symptoms of Spinal Disc Herniation
The most common signs and symptoms of Spinal Disc Herniation include:
Leg pain that is known as sciatica, is the main symptom of this issue.
Sometimes, back pain is also associated with this pain. In general pain in your leg is more irritating as compared to back pain.
Numbness and weakness in your leg are also an indication of spinal cord herniation.
Chronic pain in your buttock is another sign of this disorder.
Loss of bladder or bowel control may also be due to spinal cord herniation.
Allopathic Treatment of Spinal Disc Herniation
There are many ways to treat Spinal Disc Herniation issues in Allopathy. Most of these ways try to suppress or minimize the symptoms of the issue but do not cure the main issue. As a result, the problems re-appears if treatment is stopped.  If all of the following methods fail then surgery is done to treat this problem which is very painful, expensive, and has lots of side effects which patients have to suffer for the rest of their lives.
Common treatment ways include:
Physical therapy
Osteopathic/chiropractic manipulation (manual manipulation)
Heat and/or ice therapy
Non-steroidal anti-inflammatory drugs (NSAIDs)
Oral steroids (e.g. prednisone or methylprednisolone)
An epidural (cortisone) injection
Homeopathic Treatment of Spinal Disc Herniation
Homeopathic treatment is available for almost all medical problems.  There are several medicines in homeopathy that can give you relief from spinal cord herniation. This list includes some of the most effective homeopathic medications that help in fighting against this chronic problem. These medicines help in relieving pain by decreasing inflammation and moving all parts of the disc at their proper locations:
Bryonia
Calc carb.
Kali carb.
Lachesis
Phos.
Rhus tox
Ruta
Sepia
Thuja
You must consult a licensed homeopathic doctor before using any of these medicines. Using any medicine listed here, on your own, is not recommended. We only list medicines for information. Only your homeopathic doctor can suggest what is the best medicine after examining your current condition.
Related