What is Sciatica Pain?

Sciatica pain is a common pain associated with legs originated by the disturbance of the sciatica nerve.
The human body is composed of a network of nerves that carries signals from organs to the brain and back to the organs. The longest nerve among these nerves is the sciatica nerve which moves from the pelvis to the feet passing through the buttocks. Any irritation or compression in this nerve causes severe pain starting from the low back to thighs and moving down below the knees which are known as sciatica pain.
Image Credit: wellbeing365.com.au
What are the Signs and Symptoms of Sciatica?

It Maybe characterized by either any of the following or all of the following symptoms
Severe pain in leg worsening while sitting
Difficulty in walking and standing
Continuous pain in the buttock (one side only)
Feeling weakness or numbness in leg and foot
Continues pain in the round hip joint.
Some of the cases in advance stage pain radiate to lower limbs.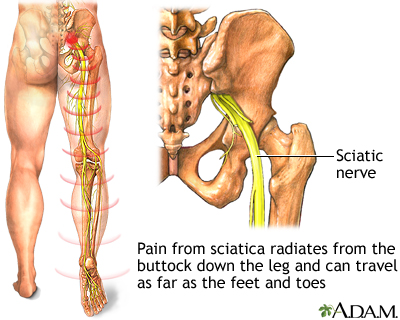 image credit: adam.com
What Causes Sciatica Pain?

Basically, sciatica is caused by a problem in the sciatic nerve. However following factors can also not be ignored.
Shrinkage of spinal canal of the lower back area
Malfunction of vertebrae supporting discs
Infection in the lower back of the body
Displacement of a vertebra
Pregnancy
Muscle strain
Spinal tumor
Deficiency of vitamin C.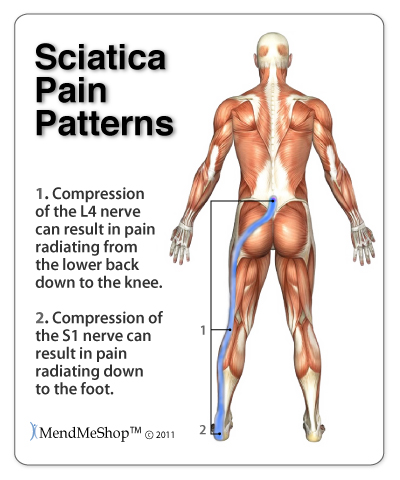 Image Credit: mendmyhip.com
How Sciatica is Diagnosed through Lab tests?
It is not very difficult to identify sciatica pain. The unique nature of pain is enough to judge back pain. Doctors take a medical history and perform a complete examination of the patient to know about the nature of the pain. A physical examination of the legs, hips, and back is done to check the flexibility, sensation, strength, and reflexes.
Furthermore, the doctor also can ask for some tests to get a true sketch of the pain. In this regard following tests may be demanded from the patient by the doctor
X-rays
CT scan
MRI
Electric measurement of muscular activity (Electromyogram)
How Treatment of Sciatica Pain is Done?

A patient suffering from sciatica pain can get relief even without any treatment within six weeks. But if the situation does not seem to be better in this tenure then the patient can adopt any of the following treatment.
Physiotherapy
Exercise
Acupuncture
Use of hot and cold packs
Massage therapy
Surgery (if pain prolongs for more than six weeks.)
Allopathic Medication for Sciatica Pain

Different pain killers and muscle relaxing medicines are available on the market to get rid of back pain. Some other medicines which are basically antidepressants are also helpful in relieving sciatica pain. Doctors also found anticonvulsants like gabapentin very effective for sciatica pain relief.
If painkillers are not helpful enough to relieve sciatica pain then the doctor will move to the next step, spinal corticosteroid or local anesthetic injection or both.
Although helpful these medicines cannot be used without the consultancy of the physician. Painkillers only can suppress the pain rather than cure it. These medicines are also not suitable to be used for a long time as the continuous use of these medicines can cause damage to the liver and kidney.
Homeopathic Treatment for Sciatica Pain

Homeopathic way of treatment provides a different remedy for different patients based on the behavior, mental state, lifestyle, sleeping pattern, and symptoms of the patient. Almost 192 remedies are there in homeopathy for the relief of back pain. Homeopathy treatment is preferred as it eradicates the problem while painkillers only suppress the back pain.
How Much Time is Required for Complete Cure of lower Back  Pain in Homeopathy?
If the right medicines are given then the patient feels great relief in pain within 2 weeks. But complete cure requires complete treatment for 2-3 months depending upon the condition and actual cause of the problem.
Some of the frequently suggested medicines to relieve sciatica pain are:
Rhus Toxicodendron
Sciatica Pain worse on Resting Position. Pain aggravates laying on pain full side walking and movement to get some Relief. Rhus tox is a beneficial medicine who lifting weight. symptoms worse by cold air.
lower limbs stiff and like paralyze.
ARNICA MONTANA
Most effective Homeopathic medicine for Sciatica Cause of Injury.
The back is very sensitive to touch.
Unbearable pain radiates to down word on Right side.
Weakness of lower limb due to spine Injury
Colocynthis
Perfect Homeopathic medicine For Sciatica if The symptoms Relief by warm.
Colocynthis Medicine is Helpful if Sciatica is Left side.
Colosynthis also use for Pain Redbaiting Down. (Arnica, Kalmia)
Kalmia latifolia
Very Effective Medicine For Sciatica all Symptoms worse by Movement.
Pain down back, as if it would break.
Constant pain in Lumber Region.
Note:
These medicines are mentioned for educational and informational purposes and you should not use any of them without consulting an experienced homeopathic doctor.
Case Study:1
Muhammad  Asghar Resident  of Rawalpindi Pakistan completely cured using Homeopathic medicine by Dr. Sabeel
Case Study:2
This latest case study of lumbar spondylosis (lower back spinal disease) recovered to a better stage from homeopathic treatment by Dr. Sabeel.
Related