What is Angina or Angina Pectoris?
The term Angina is used for severe chest pain that usually spreads to other nearby body parts like shoulders, arms, and neck. This pain is caused due to the inappropriate blood supply to your heart.
Angina may also be defined as a condition in which the patient is suffering from acute chest pain, which is triggered due to the reduced flow of blood to his or her heart muscles. This disease is a clear signal of coronary artery disorder. Doctors across the world term this medical issue as squeezing, pressure, heaviness, tightness, or pain in the chest.
It is also known as Angina Pectoris.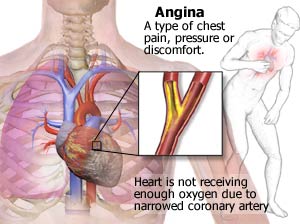 Signs and Symptoms of Angina
Symptoms that can be seen with this medical issue may include:
Pain or irritation in your chest
In addition to chest pain, feeling pain in the arms, neck, jaw, shoulder, and back
Sweating
Dizziness
 What are the Main Causes?
Chest pain may be caused due to inadequate blood flow to the heart muscles. As we know that it is the duty of our blood to carry oxygen and other nutrients. In Angina, our heart's muscles do not receive adequate oxygen that leads to a severe problem known as ischemia. The main reason for a low amount of blood flow to our heart muscle is coronary artery disease (CAD). According to health experts, the coronary arteries may be narrowed because of the deposits named as plaques. This is known as atherosclerosis.
One of the common reasons for Angina is a bad lifestyle. This disease is more common in people who are not involved in any physical activities like exercise and games. Regular exercise or even walk for 30 minutes a day can prevent you from other heart-related diseases. If you have the symptoms of chest pain then you must avoid foods with lots of fats.
How Angina is Diagnosed?
After the initial investigation the doctor will take some tests that would prove quite helpful to know whether the patient is suffering from angina or not:
Electrocardiogram (ECG or EKG)
Stress test
Echo-cardiogram
Nuclear stress test
Chest X-ray
Blood tests
Coronary Angiography
Cardiac computerized tomography (CT)
 Treatment of Angina in Homeopathy
There are a lot of medicines available in homeopathy that are proved to be quite effective in the fight against angina. Here are some medications that can be used for this purpose after consulting a homeopathic doctor:
Amyl nitrite
Glonoine
Crataegus
Cimicifuga
Spigelia
Arnica montana
Rhus tox
Aconite
Lachesis
Before consulting a homeopathic doctor, it is better to visit your physician and do all recommended tests. Do bring your reports to your homeopathic doctor. After looking at your symptoms and severity of disease, your homeopathic doctor will advise you on some medication. In some extreme cases, the only solution to the problem is surgery. But in most cases, this condition can be cured using homeopathic medicines.
Related