What is Liver Cirrhosis
Liver Cirrhosis is a complication in which scar tissues gradually replace healthy liver tissue. This disease is progressive, which means that it developed slowly over the years.
If not diagnosed in time, it eventually makes your liver stop working, and the damage is irreplaceable.
Each time, your liver is injured whether by disease or excessive consumption of alcohol or due to any other cause- your liver tries to repair itself.
Instead of healthy liver tissue, it eventually builds scars tissue which leads to the blockage of blood flow and can give your permanent liver damage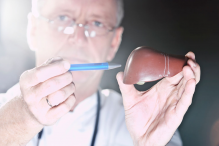 Causes of Liver Cirrhosis
Following are the major causes of liver cirrhosis:
· Excessive consumption of alcohol
· Viral infections caused by chronic viral hepatitis (B, C, and D)
· Metabolic diseases like as alpha-1-antitrypsin deficiency, and glycogen storage disorders
· Inherited diseases such as hemochromatosis
· Toxic type of hepatitis caused by severe reactions
· Physical examination
· Heart failure with liver congestion
Symptoms Liver Cirrhosis
Individual may have experience following symptoms in early stage:
· loss of appetite
· Nausea
· Rapid weight loss
· weakness
· Exhaustion
As the situation gets worse, an individual may feel the following symptoms:
· Bloody vomiting
· Itchy skin
· Swollen legs and tummy due to build-up fluid
Diagnosis:
Cirrhosis can be diagnosed by having some tests:
· CAT scan (computerized axial tomography)
· MRI, transient elastography scan
· Blood test
· Endoscopy
· Ultrasound
· Radioisotope liver/spleen scan
· liver biopsy
· Physical examination
Once you diagnosed, you have liver disease instant treatment is recommended. In some cases, a liver transplant is the only option if not cured in the earliest stage
Stages of Liver Cirrhosis:
Basically, there are four stages of Liver cirrhosis which are explained below:
Inflammation:
Your liver may become inflamed in the earliest stage. Inflammation shows that your body is fighting and trying to heal. If it continues to occur over time, you eventually start feeling pain. It causes the other body parts to inflame as well, which are noticeable afterwards. People generally do not feel pain or any discomfort when only the liver is inflamed, but it can permanently damage your liver
Fibrosis
Scar tissue is a type of fibrous tissue. If the liver left untreated in inflammation stages, the inflamed liver starts to scar. Soon all the healthy tissues are replaced by scar tissues. The scar tissue so not works the same as healthy liver tissue does but can keep blood from flowing through your liver. It shifts a burden on healthy liver tissues to make up for the scarred part.
If fibrosis is treated in this stage, there is still a chance that your liver can heal itself over time
Cirrhosis of Liver
Cirrhosis is the stage where your liver is scarred. You can find many alerting indications that your body is giving to you.
You can feel pain in many parts of your body, yellowness in your eyes, blood vomiting, blood in the stool, etc.
Gradually overtimes, blood vessels in your body may burst due to the blockage of blood. You may become sensitive to medication, insulin resistance develops type 2 diabetics and facing problems in sleeping, concentration, sleep etc.
In this stage, treatment focuses on preventing more damage to your liver and safe the remaining healthy liver tissues.
End-Stage Liver Stage:
In this stage, the only option left for the patient is the transplant of the liver. The sign of decomposition is irreversible. Decompensation is included hepatic encephalopathy, variceal bleed, kidney impairment, ascites, and lung issues.
Liver Cancer:
It is the last stage of liver disease. It can spread from the liver to other organs too. Primary liver cancer occurs more in men as compared to women. HCC is the type of liver cancer that is common these days, which makes up to 80% of cases. An individual with liver cancer can live from 6 months to 2 years, depends on his condition. The only option left is the liver transplant. If the transplant is not done within time, it can cause liver failure
Homeopathic Treatment of Liver Cirrhosis:
Now, in this era, a liver transplant is not the only option left for a patient suffering from liver disease. Homeopathic treatment is achieving unexpected results. Homeopathic treatment helps to control the scar tissues. This treatment can start at any stage of cirrhosis, early or late. If it is started even at the compensated stage, it is possible to restore the function of the liver.
Cardus marianus – helps in thinning of bile
Chelidonium majus – helps in the regeneration of liver cells
Lycopodium Clavatum –helps to heal the pain in right side pain below ribs
Podophyllum- cure diarrhea with liver cirrhosis
Arsenic Album –cure weakness, anxiety
Nux vomica- cure damage was done by excessive consumption of alcohol
Phosphorous 30c –prevent excessive long narrow stools
Lachesis 30c –cure portal congestion and venous congestion
Opium 1m and Nux vomica 30c -can be used alongside orthodox medicine for drug damage.
Other therapies
· Herbal remedies need suggestions from a qualified herbalist.
· Hatha yoga exercises are useful treatment venous drainage of the liver.
Conclusion:
Cirrhosis is a deadly liver disease, but its cure is possible. Liver transplant is not the only option. Homeopathic medicine can be used along with allopathic treatment. Above mentioned medicine will help you to heal specific issues that a cirrhosis patient deals with.
Note: Please do not use any of these medicines on your own without consulting a professional homeopathic doctor.
Case Study :
Liver Cirrhosis cured from homeopathic treatment in Rawalpindi Pakistan
Related