What is Liver Cancer?
The most common type of liver cancer is called Hepatocellular Carcinoma also known as HCC. This cancer starts within the cells of the liver known as hepatocytes.
Other types of liver cancers are called secondary cancers or metastatic cancers because this cancer starts in some other parts of the body and then spreads to the liver later.
The liver is a very important part of our body. The main function of the liver is to convert nutrients, absorbed by the digestive system, into ready-to-use chemicals. The liver also removes toxins, certain chemicals, and other waste products from the blood and makes them ready to be excreted. All blood of the body passes through the liver.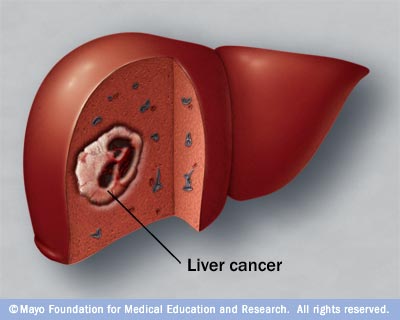 What Causes Liver Cancer?
Following are the main causes of this cancer:
Persons with liver defects by birth
Liver infections caused by Hepatitis B, C, or excessive iron in liver cells
Cirrhosis Disease
Certain chemicals like arsenic and vinyl chloride
Smoking
Excessive Alcohol Usage
Common Symptoms
Most patients don't see any symptoms in the early stages of this cancer. They usually appear later. The common symptoms seen in most CA liver patients are:
Pain in the upper abdominal area after eating
Vomiting and nausea
Increased weight loss
Stools become white and chalky
Skin and eyes become yellow
Skin itching
Diagnoses
Usually, the following tests are conducted to diagnose this type of cancer cancer and its severity:
Various blood tests to determine any liver abnormalities
Imaging tests including CT scans, Ultrasound, and MRI.
Biopsy – In this test, some tissues are taken from the liver and are examined under a microscope.
Allopathic Ways to Treat Liver Cancer
The most common ways to treat this cancer in Allopathy are:
Surgery to remove affected part of the liver or to do a complete liver transplant
Freezing cancer cells
Heating cancer cells by Radiofrequency Ablation
Alcohol injection into tumor cells to destroy them
Chemotherapy
Radiotherapy
Please note that all these methods are very expensive, painful, and have many side effects. These methods only work best when liver cancer is at its earlier stages.
Homeopathic Treatment of Liver Cancer
In homeopathy, many effective medicines are there that can be used to treat liver cancer. The good thing is that you can seek treatment even if cancer is at its later stages. These medicines kill tumor cells and stop their spreading. Important medicines to cure this cancer are:
Chelidonium
Phosphorus
Cardus
Lycopodium
Bryonia
Nux. Vom
Apis milifica
myrica
Natrum Sulph
Hydrastis can
Carcinosinum
You must consult an experienced homeopathic doctor to get the right medicines for treating liver cancer.
Case Study:1
Liver Cancer of Mrs. Ishrat was cured within 5 Months by homeopathic treatment of Dr. Sabeel.
Case Study:2
Liver Tumor of Mrs. Shahnaz Akhtar curing after using Homeopathic Medicine medical reports are attached. 
Case study : 3
The liver tumor of the patient, Maqsooda Bibi, was reduced from 9.6 cm to 8.5 cm within 2 months by homeopathic treatment.
Related