What is Migraine?
Migraine is a type of headache in which one half of head feels pulsating pain. This pain may last from 4 to 72 hours. Sometimes, some other symptoms are associated with this pain including vomiting, nausea and increased sensitivity to light & sound. Migraine is a neurological syndrome. It is more common in women, especially during or immediately after their menstrual cycles.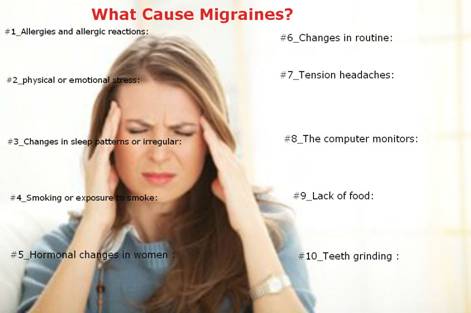 What are the Causes of Migraine?
The exact cause of this condition is unknown. But it is believed that migraine occurs because of dilation and inflammation of blood vessels present in the head region. This vessels dilation causes disturbance in blood flow to head area that causes the pain.
There are many factors that can trigger the attack of Migraine. Some factors are mentioned below:
Stress, anxiety, depression, excitement or worry
Doing hard work or doing over-relaxation
Patient may be sensitive to some foods and when these foods are used pain attack may be triggered. For example, chocolates, coffee, tea, cheese, citrus fruits etc.
Low Blood Sugar levels can also initiate migraine attack.
High blood pressure is also a major factor.
Improper sleeping habits can also be a cause.
Hormonal changes may also cause . Migraine is more common in women especially during or after their menstrual cycles. The disturbance of hormonal levels, like estrogen and serotonin, is the main cause.
Symptoms of Migraine?
Pain is on either side of head
Pain is hammering or pulsating
Pain increases when you do some work
Vomiting and Nausea may also be associated with head pain
Visual disturbances may occur like double vision, hallucinations and flashing lights
Vertigo while moving
Natural way to Cure Migraine in Homeopathy.
Homeopathic treatment of Migraine is considered as the best remedy because this treatment is effective, natural, safe and long-lasting. In homeopathy, medicine is given after studying the overall personality of patient. The medicines of one patient may be entirely different from others, although both may have very same symptoms.
By proper homeopathic treatment the patient feels improvement after 2-4 weeks. Now patient will experience lesser pain attacks. Also these attacks will end sooner. After 4-8 weeks, the headache pain attacks are almost finished but the actual causes of problem are still existing inside patient. You should not stop the treatment at this time OR your problem may re-appear. For maximum results and 100% recovery 6-12 months may be required.
Can Belladona Perfect Medicine for Migraine?
Belladona is very effective medicine for right sided headache
Belladona symptoms in headache worse on sun heat.
Migraine Pain in Belladona aggravate light, noise, lying down and in afternoon .
Belladona also effect on pain due to High blood pressure
Natrium Mur
Natrium mur is wonderful medicine for Migraine.
Unbearable headache as if a hammer were knocking in the brain.
In Natrium mur symptom worse in early morning along with nausea and vomiting.
Spigelia
Safe Cure of migraine using spigelia if the left side headache start after sunrise to till sunset better in night.
Natrium Carbonicum
Key note of this remedy only use when the pain worse in under the sun light.
Glonion
Glonion only useful when the patient history of sunstroke.
Ipecac
Ipecec can be effective to controlled the nausea during pain.
Related