Definition of Polycystic Ovarian Syndrome (PCOS)
PCOS (Polycystic ovarian syndrome) is a medical condition in which cysts are formed inside the women's ovaries. These ovarian cysts are actually benign masses which are formed due to imbalance of sex hormones (estrogens and progesterone's) of women.
Ovarian cysts formation can lead to other issues including infertility, heart problems, menstrual cycle disturbances etc.
Image Credit: permanence.com.au
Symptoms of Polycystic Ovarian Syndrome
Usually the signs and symptoms of PCOS appear in woman after she starts to menstruate.
Difficult to conceive
Main Symptom:
The main sign of PCOS is irregular menstrual  periods.
Development of Male Characteristics in Females:
In PCOS the female sex hormone level is decreased due to which some male features are developed in females. These features include:
Thinning of hair
Growth of hair on chest, face, belly, toes and thumbs etc
Deepening of voice
Breast size reduction
Other Symptoms of PCOS (Polycystic ovarian syndrome)
Other symptoms of PCOS may include:
Risk Factors Associated With PCOS:
PCOS should be treated ASAP, because women with this condition may get following problems too:
High Cholesterol Levels
Uterine Cancer
Sleep Apnea
Higher Chances of Miscarriage or Premature Delivery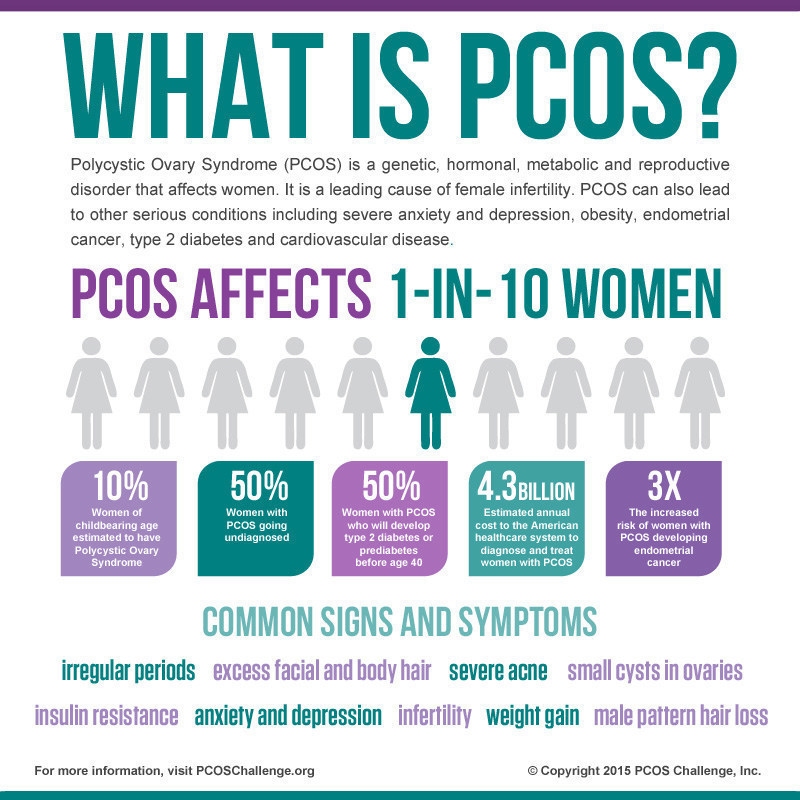 Image Credit: PCOSChallenge.org
What are Possible Causes of Polycystic Ovarian Syndrome?
As described earlier the hormonal imbalance in the body of woman causes this problem. But what exactly is responsible for this hormonal imbalance is not known yet. But there are certain factors that increase the chances of Polycystic ovaries in a woman like:
Genetic factor is important. Women with family history of this disease has greater chances of becoming a victim.
Over production of Androgen is also a key contributing factor.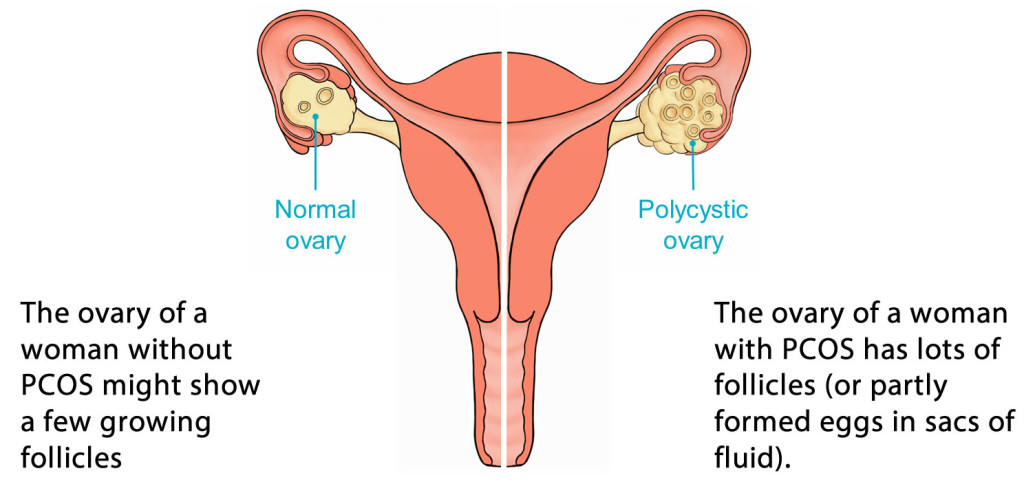 Image Credit: healthinfonet.ecu.edu.au
How Polycystic Ovarian Syndrome is Diagnosed?
Physical Examination:
Physical pelvic examination may be done to find symptoms of this problem like swollen clitoris and ovaries.
Blood Tests:
Thyroid function test to find the thyroid hormone amount in blood.
Fasting Glucose Test
Lipid Level Tests (to check blood cholesterol levels)
Vaginal Ultrasound:
Real time images of woman's reproductive organs are taken using vaginal ultrasound.
Pelvic Laparoscopy:
A small incision is made in the abdomen of woman and a tiny camera is inserted that checks the growths on woman's ovaries. If there are some signs of growths on ovaries then biopsy of tissue is done for further study.
Common Ways to Treat Polycystic Ovarian Syndrome in Allopathy
In Allopathy usually focus is done on controlling the symptoms of problem. Complete cure is usually very difficult.
Medicines:
Medicines are given to control the levels of Androgen in body. Drugs are also given to control symptoms like hair falling and acne. Some medicines are also given to reduce blood sugar and cholesterol levels.
Diet and Life Style Recommendations:
Doctors recommend regular exercise and balanced diet to the patients of PCOS especially to those who are obese. Healthy diet and good life style help to control blood sugar and cholesterol levels and regulate menstrual cycle.
Birth Control Pills:
Some women are asked to use birth control pills if they don't need to become pregnant. These pills help to control symptoms of PCOS like , testosterone levels and regulate menstrual cycle.
Anti Androgens Drugs:
To reduce the levels of Androgen, certain drugs are given. These are helpful in controlling signs and symptoms of PCOS.
Surgery:
In some cases surgery is done to reduce male hormone levels and promote ovulation. But this is not a permanent solution of PCOS.
Safe and Perfect Homeopathic Treatment of Polycystic Ovarian Syndrome
Homeopathic medicines work to eliminate the root cause of PCOS. The imbalance of hormones in woman's body is corrected through harmless medicines. Medicines are also given to give relief from symptoms of PCOS like hair falling, acne etc. There are no side effects of these medicines and patient starts feeling better within few weeks. If treatment is done in a right way, usually problem is cured within few months.
Some homeopathic medicines used to treat this condition include:
Sepia
Pulsatilla
Calcarea Carb
Natrum Mur
Kali Carb
Thuja Occidentalis
Senecio
Pulsatilla
Please do not use any of these medicines on your own without consulting a professional homeopathic doctor.
Case Study
Here is the Latest Case Study of Mrs Shehnaz Completely Cured Using Homeopathic Treatment by Dr sabeel.
If any one wants Treatment of PCOS Contact dr Sabeel .
Related