Mrs. Nasreen Case Study of a patient who was cured of Anal fistula by the homeopathic treatment done by Dr. Sabeel.
Information About Patient:
Name: Mrs. Nasreen Ali
Gender: Female
Residence: Islamabad, Pakistan
Age: 52 Years at the time of treatment
Contact Date: The patient contacted Dr. Sabeel on 27 November 2014
Symptoms of Patient:
Disease Diagnosed: Anal Fistula
Medical Test Done: Pelvic MRI Scan
Medical Report (Pelvic MRI Scan) Before Starting Treatment from Dr. Sabeel:
The patient contacted Dr. Sabeel on 17 Nov 2014 and told him about her condition and the symptoms mentioned above. Symptoms were clearly indicating that patient had Anal Fistula. Dr. Sabeel suggested Mrs. Nasreen take Pelvic MRI Scan to find the complexity of the Tract.
Following MRI Scan was done on 17 December 2014: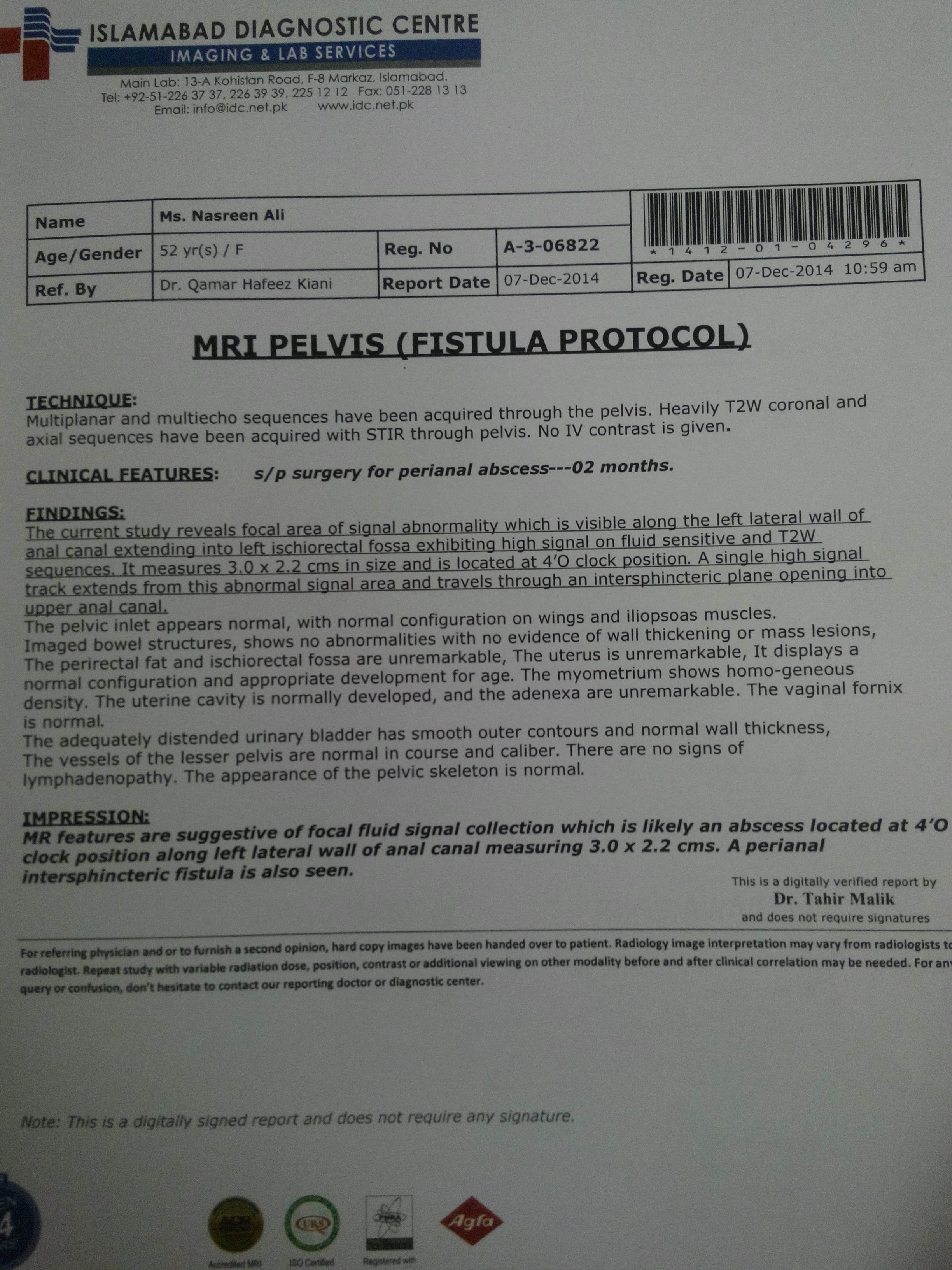 The report clearly indicated the presence of Fistula along the left lateral wall of the anal canal. A perianal Intersphincteric fistula was also seen. Surgery was suggested by physicians within 2 months.
Dr. Sabeel starts treatment after the MRI scan report:
Treatment was started one month before the above MRI report. After looking at the above MRI Scan report, Dr. Sabeel understood the complexity, route, and length of the fistula tract. Dr. Sabeel ensured the patient that there was no need for surgery and the problem can be controlled by homeopathic medicines.
After observing all symptoms and the nature of the patient, the right medicines were given to Mrs. Nasreen. Within few weeks the patient started feeling better. The pus and blood discharge from the fistula was greatly reduced but the condition was not fully cured.
Dr. Sabeel kept on changing the medicines with changing conditions of the patient. The medication was done continuously for 3 months. Now the pus and blood were not coming from the fistula anymore. The fistula wound was completely dry and healed. All pain and itching around the anal area also vanished.
The Anal Fistula of Mrs. Nasreen Ali had cured. But to confirm the situation another MRI Scan was recommended by Dr. Sabeel.
Medical Report (Pelvic MRI Scan) After 3 Months of Treatment:
This MRI Scan was done on 01 March 2015: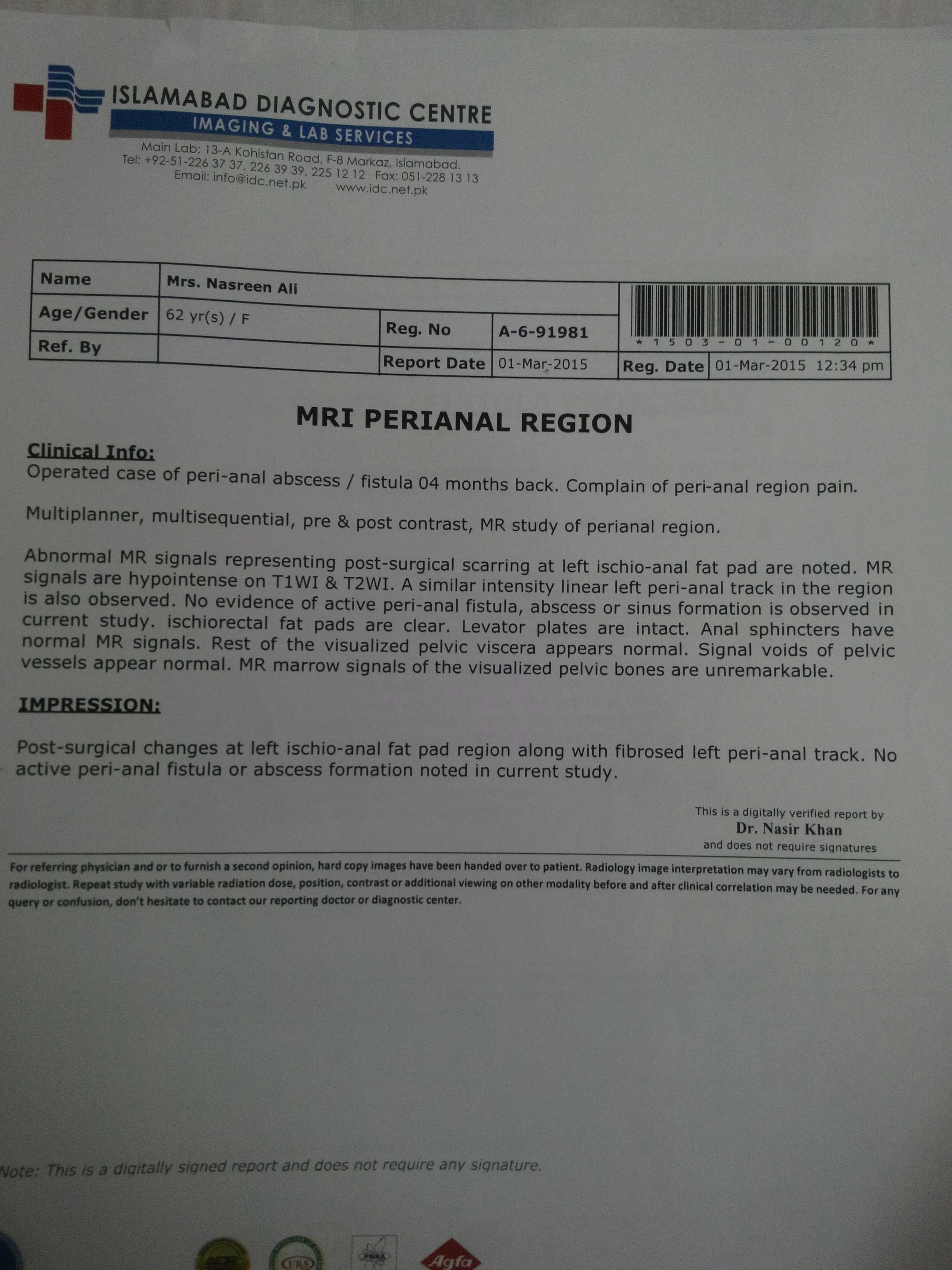 This report clearly mentioned that No active peri-anal fistula or abscess formation was noted 100% cured as indicated in the above report.
Conclusion:
The Anal Fistula of Mrs. Nasreen Ali was 100% cured in 3 months without any operation, by homeopathic treatment of Dr. Sabeel. If you or your loved one is suffering from this condition then don't hesitate to contact me. An anal fistula can be fully cured without operation using safe homeopathic medicines. The treatment is short, inexpensive, and safe.
Related