Brief History of Patient:
Mrs. Nida Zamil had a history of hydrocephalus Fetus baby. Her first baby was diagnosed as Hydrocephalus Fetus Baby and doctors had no way to treat the issue. As a result, the abortion of the fetus was done. Mrs. Nida and her husband were very desperate.
Their problem became severe when later they had another baby. Doctors told them that this baby also had the same problem. The fluid was retained in the head of the fetus resulting in an enlarged head. The baby was a hydrocephalus baby. Just like last time, doctors had no way to treat a hydrocephalus fetus baby inside the mother's body. The Neuro Surgeons at Agha Khan Hospital Karachi were suggesting another abortion.
Mrs. Nida and Her Husband Contacted Dr. Sabeel:
Mrs. Nida and her husband were hopeless because doctors had told them that they could not treat the hydrocephalus fetus problem. Now they were looking for some alternative treatment methods. Luckily, they contacted Dr. Sabeel and described the issue. Dr. Sabeel examined all ultrasound and other reports and told them that this problem could be cured.
Treatment of Hydrocephalus Baby Started:
After looking at the history and medical reports, Dr. Sabeel suggested some homeopathic medicines. The mother of the fetus, Mrs. Nida had to take medicines. The treatment was started. After 2 months of treatment, another Ultrasound test was done. The doctors were surprised to see that fetus' condition was rapidly improving.
After 3rd month of treatment, almost 80% of symptoms were gone from the fetus. The doctors were both happy and surprised. The treatment was not stopped and after the 4th month, almost all symptoms were gone. Doctors had declared that the baby was absolutely normal and they can go for normal delivery.
Medical Reports Before and During Treatment of Hydrocephalus Fetus Issue: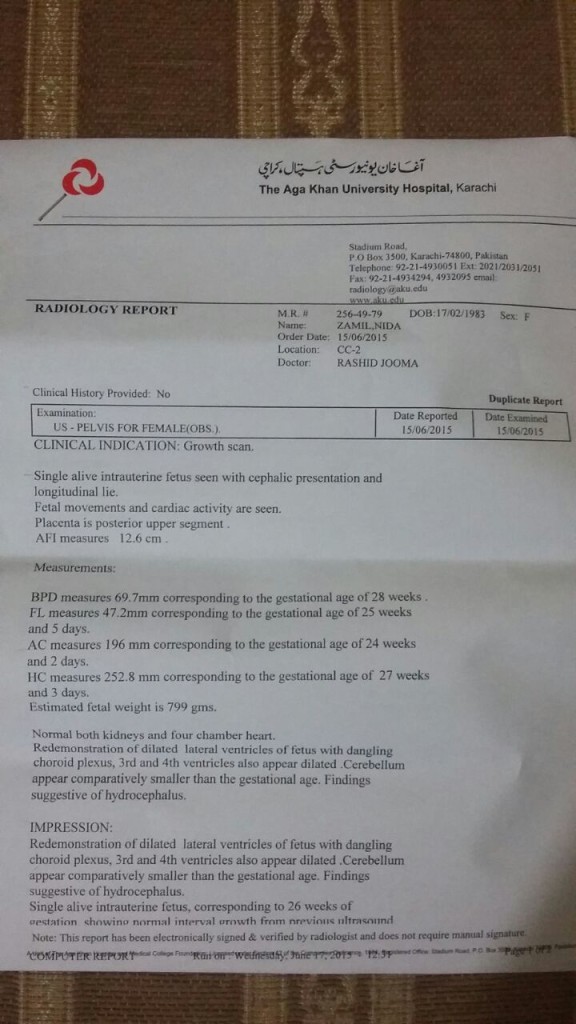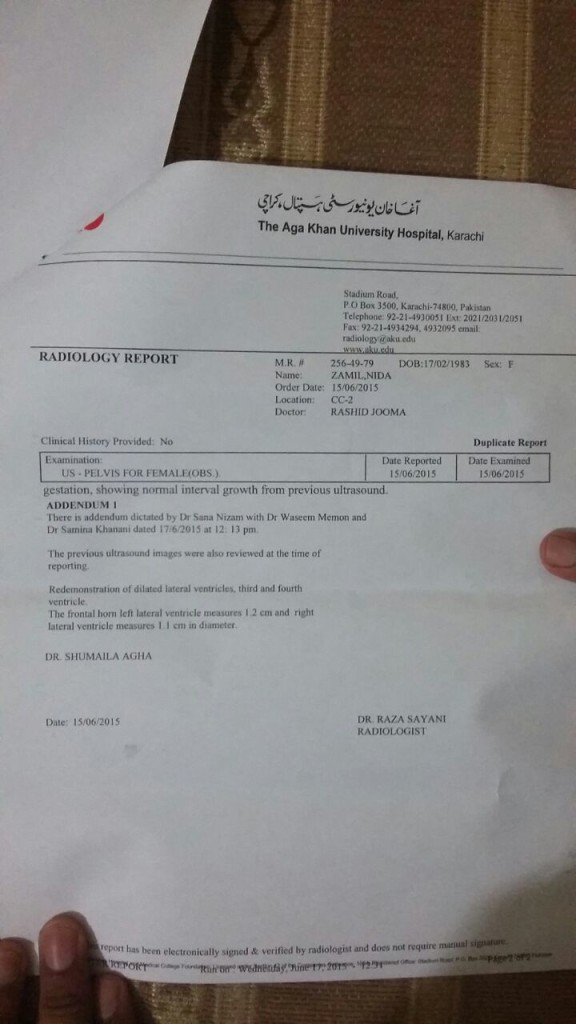 Normal Birth of Master Abdul Hadi:
As doctors had declared that all symptoms of Hydrocephalus baby had gone, delivery of the baby was carried out. The name of the baby was Abdul Hadi. The parents and doctors of Abdul Hadi were very happy to see that the newborn was 100% normal and healthy. His head was normal and there were no signs of enlarged head. No fluid retention was found in the head of Abdul Hadi.
           Medical Report of Master Abdul Hadi After Birth:
Read the Thoughts of Father of Baby, Mr. Zamil
Father of Baby Mr. Zamil has shared his thoughts about Dr. Sabeel and the homeopathic treatment of his child. Click here to read his thoughts.
Conclusion:
The hydrocephalus fetus baby (Abdul Hadi) was cured completely while inside her mother's body. Her mother was taking homeopathic medicines from Dr. Sabeel. The baby was 100% normal and healthy after birth. Please contact Dr. Sabeel if you need help in the cure of Hydrocephalus Babies.
Homeopathic Medicine Names for Hydrocephalus fetus Baby
Iodoform
Apis milifica
Calcarea Phos
Helleborus
Related