What are Gallstones or Gall Bladder Stones?
Gall Bladder stones is commonly known as Pitta in Urdu language. Sometimes bile salts, bilirubin or cholestrol in gall bladder converts into hard deposits resulting in the formation of gallstones.
common symptoms
Gallstones are feeling continuous pain between should blades and feeling pain in upper right abdomen.
Please note that most people have no symptoms and they still have gallstones.
Nausea and vomiting during pain
Jaundice(yellow skin and eyes)
Pain worse after eating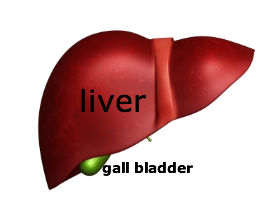 Diagnoses
The best way to diagnose gallstones is by doing CT Scan (computerized tomography) or abdominal ultrasound. The medical term used for this condition is Cholelithiasis.
What Are Main Reasons of Development of Gall bladder stones?
This problem can be inherited. If your parents have this disease, it is most likely that you may suffer from this condition too. Continuous use of high cholesterol and high fat diet is another major cause of this disease. People who are over-weight and above 60 have higher tendencies of getting this disease. This condition is more common in women as compared to men.
What are the Risks If Gallstones are Not Treated?
If gallstones are not treated it may cause many complications. In some patients the gallbladder is inflamed. The inflammation may be associated with severe pain if not treated at start. Gallstones may block common bile duct that may result in Jaundice. In some cases pancreas are inflamed and pancreatic duct is blocked resulting in the condition of pancreatitis. In severe cases gallstones may result in the cancer of gallbladder.
What are Common Ways to Treat GallStones?
In Allopathic treatment, the only way to treat gallstones is complete removal of gallbladder by operation or surgery. But you must know that gallbladder is an important internal organ of our body. When it is removed there are many other issues and deficiencies created in the body.
Is There any Cure of Gall Bladder Stones in Homeopathy?
Yes, in most of the cases the gallstones problem can be treated effectively using homeopathic medicines.
Should I Go For Surgery or Operation to Remove My Gallbladder?
Please note that in homeopathic treatment surgery is not recommended. In some cases your homeopathic doctor may advise you to opt for gallbladder removal. But this is usually done as a last resort when the infection and inflammation of gallbladder is very severe.
How Exactly Gall Bladder Stones are Removed By Homeopathy Treatment?
Please note that gallstones cannot be removed from your gallbladder. They can only be dissolved using homeopathic medicines. By homeopathic medicines your gallstones are dissolved into very  small particles so that they become harmless and cannot cause infection. In addition medicines are given to heal up already created infection in the gallbladder. In this way old infection is cured and there are no chances of more infection in future. The chances of recurrence of gallstones are also minimized by this treatment.
Common Medicines Used to Treat Gall Bladder Stones:
The common homeopathic medicines used to dissolve gallstones are Calcarea carbonica, Lycopodium, Chelidonium, Chionanthus. Fel touri, cholesterinum , and Nux vomica.
Chionanthus
Chionanthus is prominent homeopathic medicine for gallstones.
Chionanthus is best medicine to reduce pain of gallstone and dissolve the stone in small particle .
Fel touri
Fel touri also very effective remedy for gallstone associated with jaundice.
Can help out obstruction of gall ducts.
Cholesterinum
Insomnia due to gallbladder stone.
Severity of gallstone pain can be reduced after using cholesterinum.
Lycopodium.
Lycopodium have very vast action on right sided organs like gallstone, liver, kidney.
I Want to Treat My Gall Bladder Stones – How to Proceed and Start My Homeopathic Treatment?
If you or your family member wants treatment of gallstones all you need is to contact Dr. Sabeel. Simply send him an email with all details about your problem OR make a call on +92-300-5125394. Dr. Sabeel treats patients from all cities of Pakistan and all countries of world. If you cannot visit him, your medicines will be shipped to your address and your treatment will be started.
Case Study: 1
Gall Bladder Stones of Mrs. Khayam Completely cured Using Homeopathic Medicine.
Case Study: 2
Patient of Gall bladder stone Mrs Naseem Begum cured from Homeopathy Treatment in Rawalpindi Pakistan.
Save
Save
Related