What is Cervical Disc Disease?
This disease is commonly known as stiff neck and is a common reason for pain in the neck. Due to some injury, the degeneration may be caused in the cervical disc. With the passage of time the degeneration increases and results in severe pain and stiffness in the neck. Neck pain is one of the main symptoms of cervical disc disease. In general, the person who is suffering from this problem feels pain in the neck and his or her neck becomes inflexible. Pain that you feel as a result of cervical disc disease might be inflammatory, which is due to the release of some chemicals which swell nerve endings in the annulus fibrosis.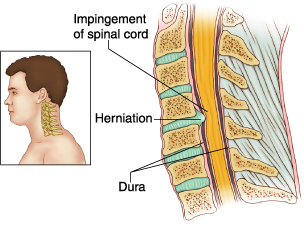 Causes of Cervical Disc Disease
Some of the common causes of this condition are as follows:
Natural Aging Process
Trauma
Injury
Physical stress
Symptoms of Cervical Disc Disease
If your neck has become stiff and you find it difficult to move then it is a clear indication that you have been affected by the cervical disc problem.
If this condition persists and you don't get its proper treatment or you don't take it seriously then it may further lead to chronic pain, numbness, or weakness in different body parts such as the neck, arms, and shoulders.
Neck pain can be worse from any movement
Allopathic Treatment
There are different types of medications available for the treatment of the cervical disc . Let us discuss some of them briefly.
Muscle relaxants. Medicines like cyclobenzaprine (Flexeril, Amrix) and methocarbamol (Robaxin) would prove quite effective to get relief from the muscle spasms in the neck.
Anti-seizure drugs: This group of medications includes gabapentin (Neurontin, Gralise, Horizant), and pregabalin (Lyrica). They are used on patients suffering from the pain of damaged nerves.
Narcotics: A number of pain killers like hydrocodone (Vicodin, Lortab, others) can work to provide immediate relief. Similarly, oxycodone (Percocet, Roxicet, others) may also be used for the same purpose.
Steroid injections: In some cases using steroid injections are also used to get rid of cervical disc disease.
All these treatment methods are expensive and are associated with many side effects. The exact causes of the problem are not treated and the problem usually persists for a long period of time.
Natural and safe Treatment of Cervical Disc Disease in Homeopathy
When you have been annoyed after prolonged allopathy treatment and you are unable to find the right treatment then why don't you try homeopathic treatment? Homeopathic medicines treat the root cause of this disease and with proper treatment, most of the symptoms are gone forever.
It is obviously a good option with no side effects. The most effective medicines that can be used for the purpose are given below:
Rhus Toxicodendron
arnica Montana
Kali phosphoricum
Colocynthis
Cimicifuga
Kalmia
magnesia phos
Related