This is the case study of a patient Mrs. Rafinat she was cured of Hepatitis C by the treatment of Dr. Sabeel Qureshi using Homeopathic medicines.
Patient Name: Mrs. Rafinat
Age: 32 Years/Female
Location: Islamabad, Pakistan
Symptoms HCV Patient of Mrs. Rafinat.
All the time Nausea Specially Smell of Food.
No desire to eat anything.
Feeling Pain in Joints
Black stool (Lepentdra).
Mouth Ulcers.
Swelling on Both Legs.
Frequent Pain Right Side Under the Ribs.
Test Report Before Taking Treatment From Dr. Sabeel: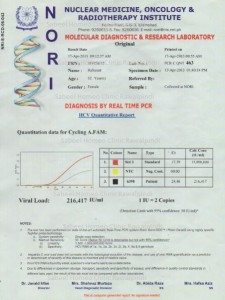 This medical report indicates that the patient is suffering from Hepatitis C. This was the medical report that the patient gave to Dr. Sabeel. After studying the report and other symptoms of the patient, Dr. Sabeel started the treatment. Dr. Sabeel gave perfect medicines to cure the symptoms and root cause of the disease.
Mrs. Rafinat took all medicines regularly. After few weeks, she was asked to do her blood test again. The results were amazing. Take a look at her medical report below:
Test Reports Taken After Homeopathic Treatment Done by Dr. Sabeel: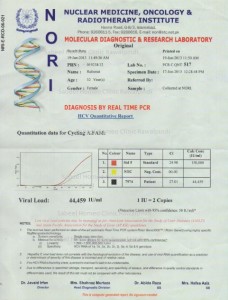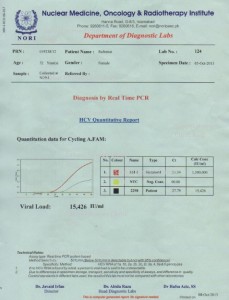 These medical reports are telling that there are no more signs of Hepatitis C in the patient. The disease was completely cured by the treatment done by Dr. Sabeel using homeopathic medicines.
Are You Suffering From Hepatitis C and Don't Want the Painful Allopathic Treatment?
If you or your loved one is suffering from Hepatitis C, then don't go for expensive and painful Allopathic treatment. You can be completely cured of Hepatitis C using homeopathic medicines within a few weeks or months (depending upon your condition). Contact Dr. Sabeel to start your treatment now.
Related