Here is another cases study of Mr. Irshad Ahmed Yaqoob who was successfully cured of Anal Fistula by Homeopathic Dr. Sabeel Ahmed Qureshi within 3 Months.
Information About Patient:
Name: Mr. Irshad Ahmed Yaqoob
Gender: Male
Residence: Currently in Saudi Arabia
Age: 63 Years at the time of treatment
Sabeel Homeo Clinic Record No: 633
Symptoms of Anal Fistula Patient
Drainage of pus from fistula in every stool
Itching and cutting pain around the anus
Pain during drainage
Itching
MRI after homeopathic Treatment
After 3 Months of treatment, the patient feeling very well and Dr. Sabeel Ahmed suggest an MRI as below report "No perianal fistula identified"
It cured and all relevant symptoms, pain, itching around the anal was vanished by using Dr. Sabeel's homeopathic medication.
This MRI Scan was done on 20 February 2017: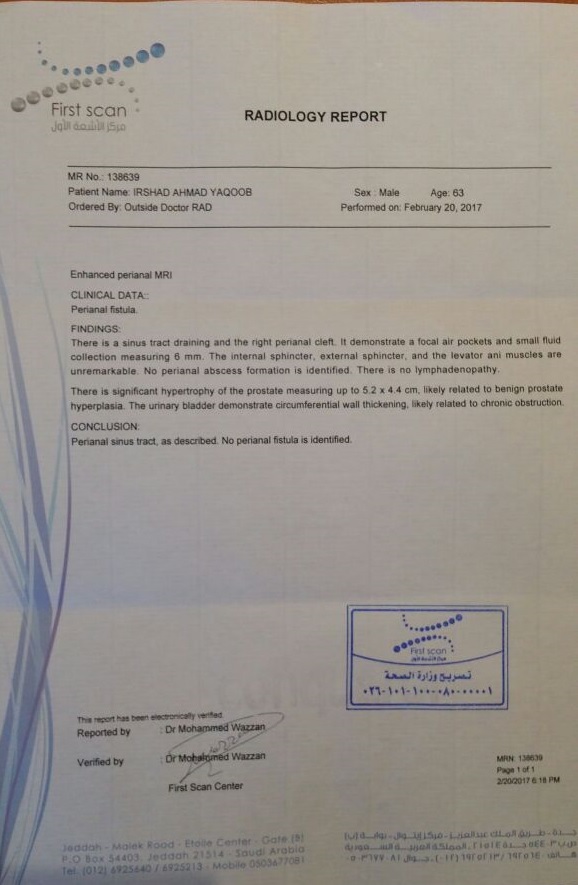 This report clearly mentioned that No perianal fistula was Identified. Fistula was completely cured by homeopathic medicine.
Conclusion:
The Anal Fistula cured of Mr. Irshad Ahmed Yaqoob within 3 months without any surgery.
Related