Patient Diagnosed Gallbladder Stone and Fibroids:
Mrs. Naseem Begum suffering from multiple health issues. She diagnosed 6.7 mm  Gallbladder stone and fibroids as in the medical report. She starts taking treatment from dr Sabeel just after being diagnosed.
Patient Basic Information:
Name: Mrs. Naseem Begum
Gender: Female
Residence: Rawalpindi, Pakistan.
Age: 60 Years at the time of treatment
Sabeel Homeo Clinic Record No: 380
Symptoms of patient
Unbearable pain in upper belly right side
Digestive problems and heartburn
Acidity, Gastric, and Constipation
Nausea worse smell of food
After a meal, a heavy feeling in the  lower abdomen
Severe pain starts in the  stomach after eating pain it may move from right to left
Medical Report Before Homeopathic Treatment
In February 2017 Homeopathic Dr. Sabeel Ahmed advise Abdomen and Pelvis Ultrasound to Mrs. Naseem Begum. In the report mentioned gallbladder stones and fibroids.
Medical Report After Homeopathic Treatment of Gallbladder Stone and Fibroids
After 5 months of regular medication, repeat the ultrasound on 22 July, 2017. This report does not show calculus in the lumen and gallbladder was clear from any stones and Fibroid is also cured.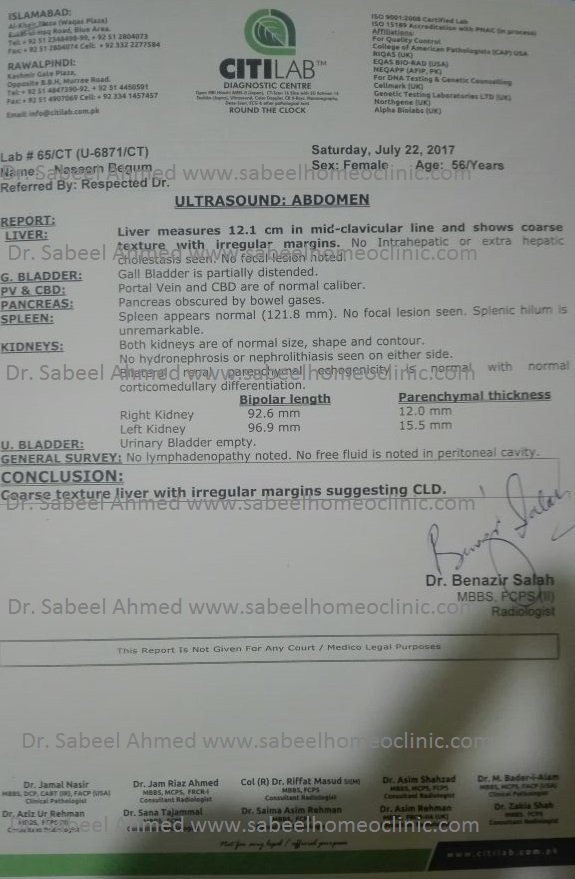 Related