Definition of Psoriasis
Psoriasis is a widespread, persistent, reverting, revoking, an immune-mediated disorder that occurs due to skin lesions including red, scaly patches, papules, and plaques that normally itch. These patches of the said disease vary in severity. The affected persons may receive minor to complete skin lesions. It is estimated that about two to four percent of the world's population has been affected by this skin disorder. There are five types of Psoriasis namely Plaque , Guttate , Pustular , Inverse, and Erythrodermic Psoriasis.
Symptoms in Different Types of Psoriasis
Plaque psoriasis
Occurring reddish patches on skin with silver and white-colored covering, known as scale. These patches are generally seen at the knees, elbows, lower back, and scalp of the patient. These patches are itchy.
Guttate psoriasis
Little red spots are normally seen on the nose, arms, and legs. You can find these spots after sickness. They might be cleared up within a few weeks without any specific treatment. These spots are seen especially at those body parts where the patient had plaque psoriasis.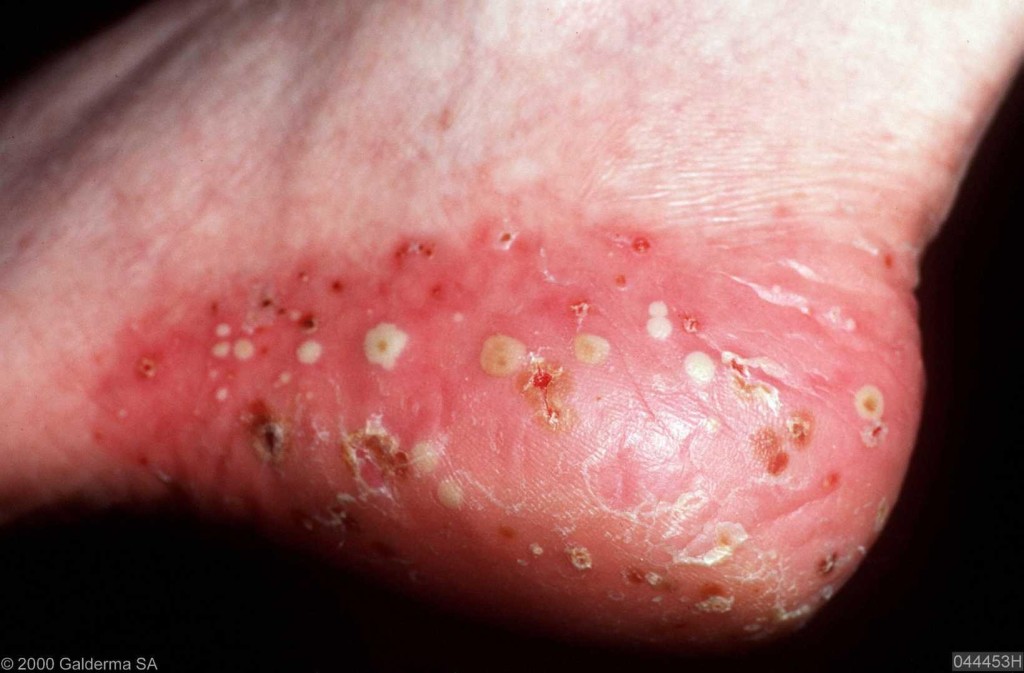 Pustular
Swollen red-colored dotted skin with bumps.
Bumps are pus-filled and are normally seen at the patient's palms and soles.
The affected person feels pain and has soreness at the bumps.
Bumps would dry and brown dots might be left on your skin.
Erythrodermic
Red-colored patches are seen on the body. These patches will be seen only at those body parts where skin touches the skin, like your armpits, somewhere near your groin, genitals, and hips. Women may receive these patches under their breasts.
Common Symptoms
Sickness
Chills
Faster pulse rate
Low intake of food
Inverse
The color of the skin becomes red and it looks as if it has been burnt.
The affected person is unable to maintain his usual body temperature. His body either becomes too hot or too cold.
Severe itching worse after heat
Severe pain.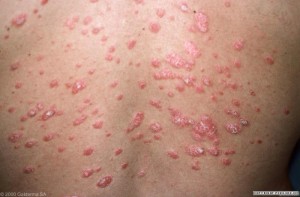 Major Causes
There are quite a few causes  but some of the main causes of developing psoriasis in your skin may include:
Some infections, for example, strep throat or skin-related issues may cause psoriasis.
Any type of injury like a cut, bug bite, or intense sunburn.
Cold weather.
Smoking.
Taking too much alcohol.
How Psoriasis is Diagnosed?
Generally, the doctor or dermatologist needs to examine the patient's skin in order to diagnose this skin infection. As psoriasis looks like eczema and other skin infections, therefore sometimes the dermatologist finds some problems to diagnose the problem accurately.
Effective Homeo Medicine to Complete cure of Psoriasis
In homeopathy usually, a curative therapy approach is adopted to effectively deal with this skin disorder. Medical treatment in homeopathy is obviously safe and secure as it offers a natural solution to psoriasis. Homeopathic medicines do not include any local ointment. They work in an efficient way to regain the balance of your immune system and fight effectively against genetic predisposition. The medications offered in homeopathy would help to minimize the number and intensity of lesions, reduce flare-ups and disability that leads to bringing an enduring cure. These medications are easy to take and do not have any side effects.
Petroleum
Graphitis
Dolicus
Nat Carb
Belladonna
Ferr Phos
Note
Please don't use any medicine on your own and consult a reputed homeopathic doctor to seek proper treatment .
Related