This latest case study of Lumbar Spondylitis (lower back spinal disease) recovered to a better stage from homeopathic treatment by Dr. Sabeel. This case is August 2020.
Lumbar Spondylitis is usually associated with, degenerative disc disease, and spondylosis anatomical changes to the intervertebral disc spaces. Lumbar spondylosis is associated with the aging process in terms of bony degeneration, but Lumbar spondylosis can occur at any age at any time due to various factors or injuries.
Patient Complete Information
Name: Mr. Roman Noor
Gender: Male
Age: 33 years
Medical History of Mr. Roman Noor
The patient has lumbar spondylosis. Lumbers spondylosis restricts body movement and can cause severe pain and discomfort in the lower back.

Movement is restricted.
The job and employment status suffer due to lack of work travel. 

The patient was treated by Dr. Sabeel using homeopathic treatment, and by the grace of God, in few months the patient curing of lumbar spondylosis. 
Below is the MRI report of the patient.
MRI Report before Treatment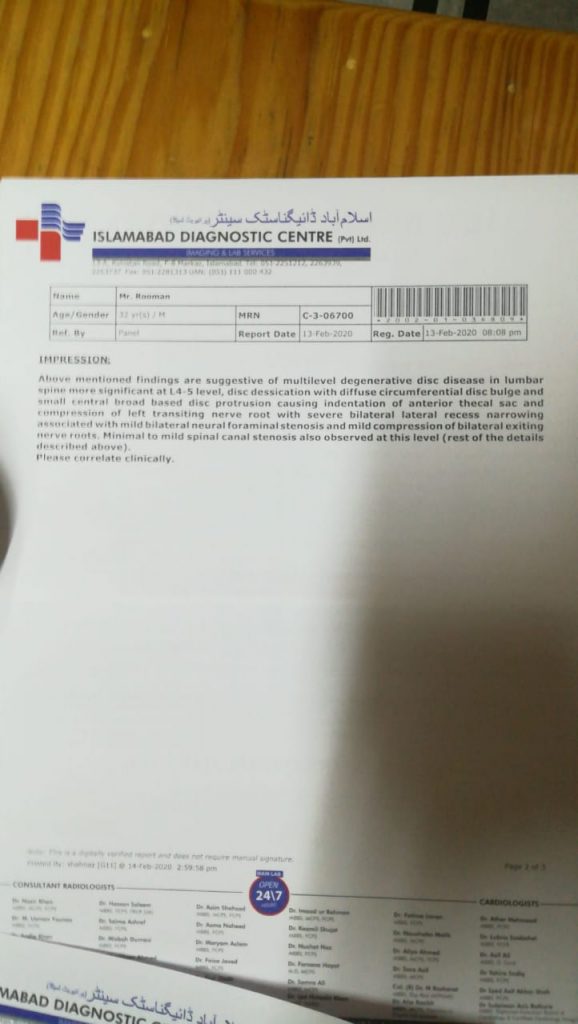 Above  MRI report before Homeopathic treatment is clearly shown that multilevel degenerative disc disease in the lumbar spine L4, L5 level disc dissection.
MRI Report after Homeopathic Treatment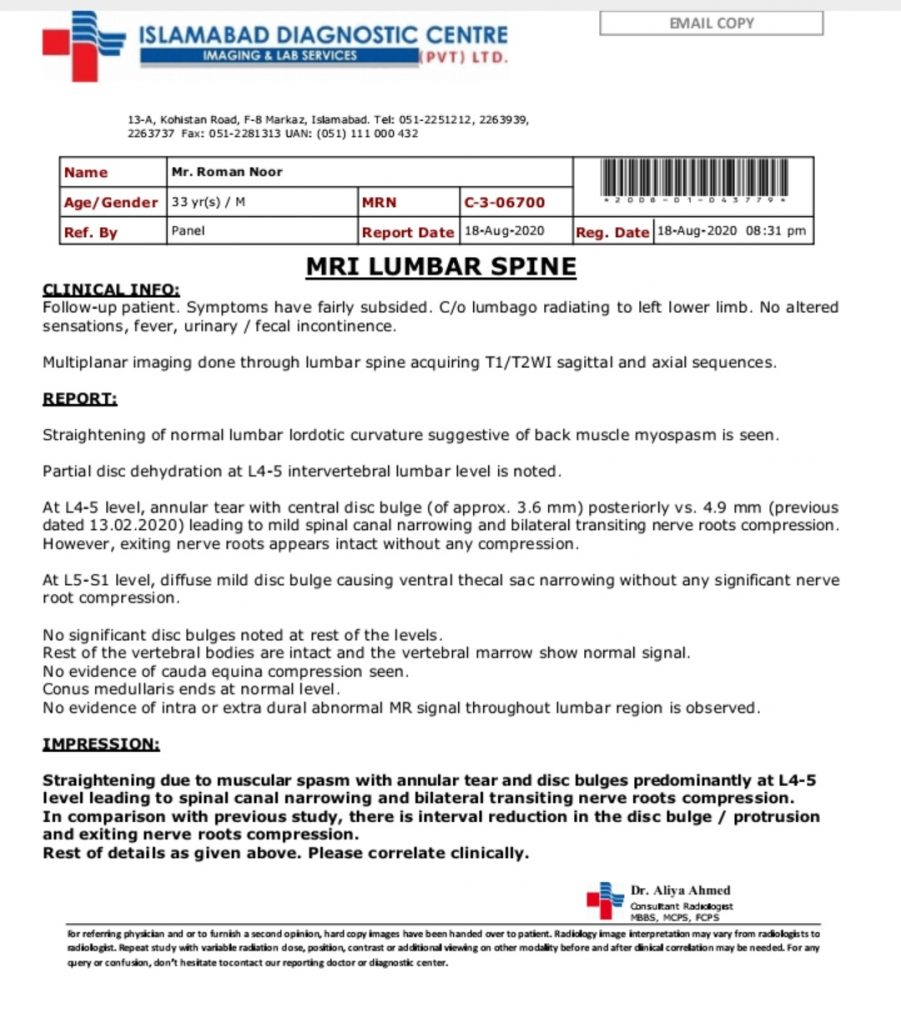 Conclusion
Above mentioned reports have shown, that Mr. Roman Noor made a progress and recovery from lumbar spondylosis. The report suggests that symptoms have fairly subsided. The normal lumbar lordotic is straightened. In comparison to the before treatment report, the interval in the disc bulge is reduced, which is a clear sign that the patient has improved from the severe symptoms being faced before the treatment.
If you face issues like back pain, spinal discs issues, especially lumbar spondylosis, then this disease can be treated successfully from homeopathic treatment and you can contact, consult and get treatment by Dr. Sabeel.
Related