What are Piles of Haemorrhoids?
Pile is a serious disease in which blood vessels around your rectum get swollen. Piles are clusters of tissue that are present in the anus. They are full of blood vessels, support tissue, muscle, and elastic fibers. This disease is also called hemorrhoids. It can be external or internal as shown below.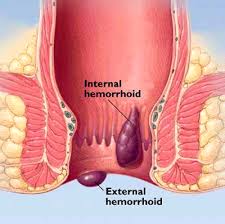 Symptoms of Piles
It has been observed in many patients that this problem does not show serious effects and the affected person gets away with it without any treatment within a few days.
Let us have a look at some of the key symptoms of piles.
A person might feel a hard lump in the rectum. That could be quite a painful situation for the patient as this consists of coagulated blood.
After the stool, the person may feel as if the bowels are still full.
You may see dark red blood following the bowel movement.
You may also get the feeling of Itchiness in your rectum area.
Another symptom for piles is that mucus is released while emptying the bowels.
You may feel pain when excreting
What Causes Piles?
The blood vessels that are present near your rectum would stretch under pressure with a feeling of swelling. The condition could become worse if pressure is enhanced near your lower rectum. Then it might be due to:
Persisting constipation
Constant diarrhea
Weight lifting
Pregnancy
Doing extra efforts while passing bowels
Inheritance of family history of the disease
Allopathy Treatment Methods
In Allopathy the most usual way to treat piles is surgery. Surgery provides an immediate solution to this problem but in many cases the re-occur after some time. This treatment method is costly and painful.
Homeopathic Methods to Treat Piles without Operation
Allopathy treatment involves different ointments for the treatment of piles. But most of the medications do not offer a persistent and long-lasting solution. That is the reason why lots of people put their trust in homeopathic treatment.
Homeopathic medicines serve as a great alternative to traditional allopathic medicines. The ideal thing that the home medicines do is that they root out the main cause of the problem such as hepatic portal hypertension. Some people are of the view that homeopathic treatment is against allopathy and surgery but that is not true. Actually, the homeopathy method of treatment is based on logic and you get a safe and efficient mode of treatment.
Homeopathy offers a wide range of medicines for piles. The homeopathic doctors say that you may find 278 medicines for this purpose. But if you want to get the most suitable medicine for you then it is better to consult a homeopathy expert. But for your convenience, we are suggesting a few medicines that have been known to show curing effects on the patients suffering from piles.\
Homeopathic Medicine for Piles.
Hamamelis:
Best Homeopathic medicine for bleeding piles.
Rough feeling in anus with intensive pain.
Aesculus hip
Very suitable medicine for piles when the prolapse symptoms are prominent.
Severe pain after stool with bloody stool.
Continues a heaviness feeling on the rectum.
Milifolium
One of the best remedies for all kinds of Hemorrhage (bleeding).
Collinsonia
Bleeding piles and constipated especially in pregnant women.
Constriction pain in the rectum while passing stool with bleeding.
Constant pain rectum.
A prominent sign of alternate constipation and diarrhea
Note: Please do not use any of these medicines on your own without consulting a professional homeopathic doctor.
Related