What is Breast Cancer?
In this disease, a malignant tumor is formed in breast cells. A malignant tumor simply means a group of cancer cells that can spread to surrounding cells and tissues. This tumor can also spread and affects other body parts. Breast cancer mostly affects women.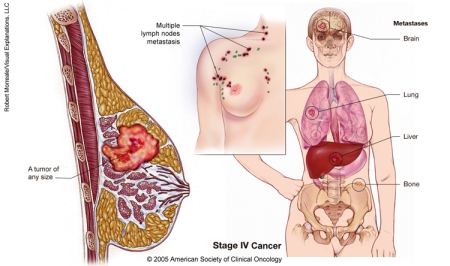 Symptoms
The first common and visible symptom of this cancer is the formation of a lump or thick tissues in the breast area. This lump may or may not be cancerous. But it is recommended to consult your physician ASAP if you find any thick tissues in your breast area.
Other common symptoms are:
The shape or size of breasts may change
Discharge of fluid (may be bloody) from nipples
Swelling in armpits
A rash may appear around your nipple
Feelings of pain in breast or armpits
Basic Reasons
The exact reasons are not known but certain factors may contribute to this cancer problem in women.
Age: It is observed that this cancer is most common in women ages over 50.
Genetics: If parents or close relatives have breast or ovarian cancer, then the chances of this cancer increase in the next generation.
Dense Breast Tissues: It is observed that this disease is more common in women with dense breast tissues.
No Breastfeeding: Mothers who don't breastfeed have more chances of getting this cancer.
Having Children in Later Ages: Women who don't have children or give birth to children in their later ages have more chances of getting this disease.
Best Homeopathic Treatment
It is usually easy to treat this cancer at earlier stages. That's why women are advised to consult their physician ASAP if they see any symptoms of this cancer. If the tumor becomes older, then it affects more tissues, and the damaged area is increased. This makes the treatment difficult and longer.
In Allopathic treatment, most of the time, Chemotherapy is used to treat breast cancer. This is a painful method that is associated with adverse side effects.
The good news is that there are effective medicines available in homeopathy that can help cure breast cancer. The advantage of using homeopathic medicines is that it only affects cancerous cells and not the surrounding healthy cells. The common medicines used to treat breast cancer are.
Conium Maculatum
Carcinosinum
Phytolacca Decandra
Thuja occidentalis
Asteris rub
Apis milifica
lycopodium
Silicea
Calcarea flour
Please note that you should not use any medicine without asking an expert homeopathic doctor.
Carcinosin; Conium maculatum; Phytolacca decandra; and Thuja – See more at: http://homeopathyplus.com.au/breast-cancer-homeopathic-remedies-effective-and-non-toxic/#sthash.1DNqmntx.dpuf
Carcinosin; Conium maculatum; Phytolacca decandra; and Thuja – See more at: http://homeopathyplus.com.au/breast-cancer-homeopathic-remedies-effective-and-non-toxic/#sthash.1DNqmntx.dpuf
Related