What is Anal Fissure?
An anal fissure is basically a small cut or tears in the delicate mucosal lines of the anus. It causes mild to severe pain while passing stools. Sometimes bleeding occurs while passing tools too. This condition is common in young infants but people of any age can be affected. In many cases, fissures are healed on their own without any treatment. In other cases, proper medical treatment is necessary to cure anal fissure OR it may lead to more complications.
Image Credit: colorectalsurgeonssydney.com.au
What Are Common Symptoms?
Bleeding during or after a bowel movement
Feelings of itching or irritation around the anal area
Crack or cut can be seen around the anus
Presence of a little lump near the fissure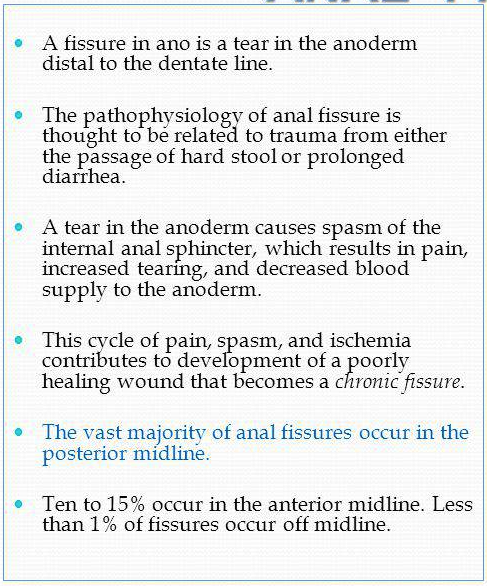 What are the Possible Causes of Anal Fissure?
Following are some of the common causes.
Straining during stooling
Diarrhea (chronic)
Childbirth in women
HIV (Aids)
Cancer of Anus
Herpes
Syphilis
Sexual intercourse can develop an anal fissure
Complicated Forms of Anal Fissure
In many cases, an Anal fissure wound is healed on its own without any treatment. But this is not always true.
1- Sometimes, fails to heal even after many weeks. This type of fissure is chronic and needs proper treatment OR the condition can get worse.
2- Another problem is that if you have the previous history, then it may re-occur in the future.
3- If an anal fissure is not treated properly then it can spread and damage the sphincter muscles of the Anus. Sphincter muscles are very important muscles because they are responsible for opening and closing anal opening during bowel movement.
4- If the fissure is not treated properly then severe pain and bleeding will be repeated in cycles, especially during and after a bowel movement. This causes great pain and discomfort for the patient.
How to Diagnose Anal Fissures?
There are many ways to diagnose Anal Fissure:
Physical Examination: Usually the symptoms of the fissure are very obvious and it can be diagnosed very easily. In some cases, a physical examination of the anal area is done to find the tear or cut in the anus.
Digital Rectum Test: A lighted tube called an Endoscope is inserted into the anal canal to inspect and see any cut, lesions, or fissures in the linings of the anus.
Allopathic Ways to Treat.
1- If the fissure is diagnosed in its early stages and the condition is not very severe, then different methods are used to soften the stools and avoid constipation. Certain drugs and food rich in fiber can help to soften the stools. Usually, when constipation is cured and soft stools are passed for few weeks, the anal fissure is healed on its own.
2- In some cases stool softening is not enough and proper medicines are required to heal the fissure. The main purposes of medicines are to increase blood supply to the fissure area, relieve pain, and relax the sphincter muscles of the anal area.
3- When medications are not able to cure fissure, then surgery is done. A small part of the Sphincter muscles is removed to decrease pain, spasm and to stimulate the healing process.
Anal Fissure is the Right way to cure in Homeopathy Without any Complication
As mentioned in the above lines, medicines and surgery are used to cure this condition in Allopathy. But both of these methods are costly, inefficient, and are associated with many side effects. Another common problem is that even if Fissure is cured by these methods, it may re-occur after a few months or years.
In homeopathy, there is no need for heavy medicines, and no surgery or operation is recommended. Once anal fissure is cured, it is gone forever (in most cases). The treatment method is very safe and there are no side effects. Homeopathic medicines will work in many ways to treat fissure wounds. Some of these actions include:
softening stools,
avoiding constipation,
reducing pain
increased blood flow to fissure wound for fast healing
fast healing of the wound and protecting it from further damage.
Usually patient starts feeling good after few days as pain, discomfort, and bleeding are greatly reduced. But treatment should not be stopped till the wound is completely healed and cured. Once the wound is healed by taking homeopathic medicines, there are almost no chances of occurring again.
Some common homeopathic medicines to treat anal fissure include:
Nitric Acid
Acid nitric suitable medicine to cure Anal fissure without operation.
The most important symptom of this remedy is stinging and cutting pain during and after stool.
Graphites
Best medicine for treat anal fissures.
Tendency to Obesity due to constipation.
Smelly discharge from the rectum area also found a putrid smell in the urine.
Regular pinching pain in a fissure.
Kali Carbonicum.
Remarkable effective medicine all potassium salt is seen with slow pulse, coldness, and depression.
key signs of this remedy are stitches pain which may be felt in all parts of the body, especially in the rectum area before passing stool.
Heavy stool with stitches pain
Fissure swollen and pain full.
Kali carbonicum is also an amazing remedy for prolapsus.
Ratanhia
Most of the cases of an anal fissure are completely cured by using Ratanhia.
Speedy effects on anal fissure to reducing pain simply should say its pain killer.
Nux vomica
Nux vomica can be the best medicine if constipation found in patients
The frequent ineffectual desire of stool passing but small in each attempt.
Please don't use any of these medicines on your own without consulting an experienced homeopathic doctor.
Related