Enlarge Spleen Definition
Splenomegaly is the enlarge spleen, it is another cardinal sign of hypersplenism.
It includes some reduction in circulating blood cells granulocytes, erythrocytes, and platelets.
This is usually associated with an increased workload, which suggests that it is a response to hyperfunction.
So, splenomegaly has belonged to the destruction of blood cells.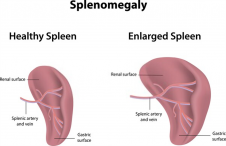 What is the spleen?
Spleen is a part of the human lymphatic system. It works as a drainage network that defends the body against infections.
It stores white blood cells that help our immune system.It also helps in the creation of antibodies.
Location of the spleen:
It is the largest organ of the lymphatic system. It helps to maintain body fluids.so it is an important organ, but you can live without it.It is found on the left side of your body just below the left rib cage.

Appearance:
The spleen is soft, and its color is purple. It is a combination of two different types of tissues.
Red pulp tissue
White pulp tissue
Red pulp tissue cleans the blood by filtration and gets rid of old or damaged red blood cells.
White pulp tissues contain T and B immune cells that help to fight against the infection.

Size:
An easy way to remember the actual size of the spleen is:
The rule for the weight of the spleen:
1×3×5×7×9×11
An adult spleen measures around by 1-5 inches.
Its weight is about 7 oz.
The location of the spleen is the 9th and 11th ribs.
Function:
Spleen works as a blood purifier.It maintains the number of red blood cells and the storage of blood in the body.
It also creates white blood cells with the help of lymph nodes to act as a defender called lymphocytes.
Lymphocytes produce antibodies that kill foreign microorganisms and stop the infection from spreading in the whole body.
When blood flows into the spleen, it collects the old or dead red blood cells from the blood, and the pureblood can easily pass through it.
Spleen stores any useful component like iron, which it uses in the development of new cells.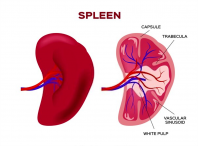 Problems of the spleen:
There are some problems with the spleenlet's check:
Ruptured spleen:
Jorden Knowlton, a nurse practitioner at the University of Florida, said the spleen usually ruptures due to an accident. These types of situations cause breakage in the spleen.
Anemia:
In this disease, the patient faced lake red blood cells.
Risk of infection:
Less number of white blood cells may cause infection.
bleeding or bruising:
A reduced number of platelets can cause bleeding.
Symptoms of Ruptured Spleen:
It can cause fatigue, pale skin, dizziness, and high blood pressure.
A pain will produce on the left side of the abdomen when the spleen rupture, left shoulder, and left chest wall.
You need to meet with a doctor immediately when you feel any symptoms after an accident.
Treatment depends upon the condition of your spleen. The doctor first examines your spleen and then recommends your treatment on the condition of your spleen.
If your spleen is highly damaged, maybe he will recommend your surgery to remove a part of the spleen or surgery to remove the whole spleen.
You can live without a spleen, but your body becomes more sensitive to any infection.
Spleen cancer:
In the spleen, cancer is very rare. But when blood cancer occurs, it passes through from the spleen and affects it.
It can also happen with leukemia that originates from bone marrow.
It also can happen with other cancers like lung cancer or stomach cancer but very rare.
Symptoms of Spleen Cancer:
You will feel pain, cold, or fullness in your upper abdomen. An enlarged spleen can also be the cause of spleen cancer.
Treatment of spleen cancer depends upon the type of cancer.
Enlargement of the spleen:
Enlargement of the spleen is another problem of the spleen. It can be enlarged by inflammatory diseases like sarcoidosis, lupus, rheumatoid arthritis.
It also can be happened by liver diseases, blood diseases, and lymphatic infections.
Homeopathic treatment for Enlarge Spleen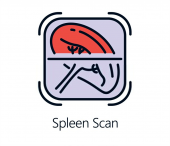 There are many homeopathic treatments, but the most effective treatments are discussed here:
Ceanothus
Cinchona
Capsicum
Quercus
Natrum mer
Capsicum Best Medicine For Enlarge Spleen
Capsicum is one of our most popular homeopathic remedies for the swollen spleen.
Its most efficient nutrients are helpful in the treatment of enlargement of the spleen.
It provides those nutrients that help in growing new cells and also recover the cells.
Queries:
Enlarged spleen associated with alcoholic cirrhosis of liver ankles in swollen is also treated with this.
Medicines are ceanothus 30, Bryonia 30, china 30, Arsenic iodatum 30
All these can be used in water 5 drops 3 times.
Conclusion
If you are suffering from spleen issues, then don't worry, give it a try to the homeopathic treatment of spleen problems because it consists of natural ingredients.
Case Study
Patient of Enlarge Spleen and Ascites Completely Cured by Homeopathic Medicine By Dr Sabeel
Related