TYHDA Stands for "The Young Homeopathic Doctor's Association"
SCOPE, AIM AND OBJECTIVES OF THE ASSOCIATION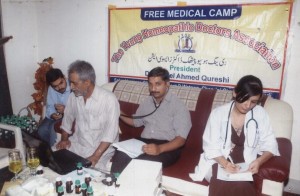 TYHDA is totally non-political association, and the purpose of its establishment is only for the betterment, up boosting, and progress of the homeopathy and the service of humanity.
To work for the betterment of the society by providing free medical facilities for the public in general and for the needy persons in particular.
To inculcate in the minds of the Society, the true spirit of the Homeopathic system as compared to the allopathic system.
To guide/help the new homeopaths to gain expertise and proficiency for smooth and efficient practice. To enhance the cognitive abilities of the learners/novice homeopaths.
To mobilize, Patronize, organize the Homeopathic doctors for inclusion in the Government Hospitals as per the Government policies.
To request, press and demand the Government for proper percentage of the Homeopathic doctors in the Government Hospitals and other offices according to the ratio as fixed by the Federal/Provincial Governments.
To work for the eradication of use of Narcotics among the adolescent in particular and the other general public in general, through medication and other related measures according to the Homeopathic system of medicine.
To work for the establishment of modern research center in line with the present needs in the medical sector.
To work for raising consciousness and awareness among general public regarding Homeopathic system of medicine and its benefits and effects.
Motivation for healthy improvement/conditions among public in large.
Civil society the community participation towards hygienic and sanitation problems leading to worse atmospheric conditions prevailing in the country.
To work for the eradication of serious diseases like HEPATITIS, SUGAR, DENGUE VIRUS, SWINE FLUE etc. through the scientific system of Homeopathy.